Trump, Biden running neck-and-neck than opinion polls predicted
London, Nov. 4, 2020 (AltAfrica)-President Donald Trump was narrowly leading Democratic rival Joe Biden in the vital battleground state of Florida on Tuesday, while other competitive swing states that will help decide the election outcome, such as Georgia and North Carolina, remained up in the air.
The two contenders split the first US states to be projected in the White House race, with conservative Indiana and Kentucky going to Trump and Democratic-leaning Vermont and Virginia going to Biden, according to projections by television networks and Edison Research.
BREAKING: Joe Biden wins Colorado. #APracecall at 7:36 p.m. MST. #Election2020

— AP Politics (@AP_Politics) November 4, 2020
In the first major result of the night, the State of Indiana has gone to the Republican Donald Trump and with that, 11 electoral college votes. #sabcnews

— Sherwin Bryce-Pease (@sherwiebp) November 4, 2020
Trump projected to win West Virginia's 5 EC votes as expected

Florida too close to call. Georgia too close to call. Stay tuned.#sabcnews

— Sherwin Bryce-Pease (@sherwiebp) November 4, 2020
But in Florida, a must-win state for Trump in his quest for the 270 electoral votes needed to win the presidency, Trump was leading Biden 50.3% to 48.7% with about 89% reported.
READ ALSO: NIGERIAN, UGANDAN, TANZANIAN STUDENTS TOP HUAWEI ICT COMPETITION
Biden still has multiple paths to the 270 electoral votes he needs without Florida despite having spent lots of time and money trying to flip the state that backed Trump in 2016.
Biden took the lead in other battlegrounds.
He led Trump by 52.5% to 46.4% in North Carolina with 68% of estimated votes reported.
Voting experts have warned that the early vote counting in North Carolina could favour Biden because election officials start processing mail-in ballots weeks before Election Day.
Results in Ohio are offering a surprise so far. With 67% of the vote counted statewide, Joe Biden is leading by 50% to 48.8%, outperforming Donald Trump in some crucial counties.
If that holds, it would be a big surprise. Trump won Ohio by eight points in 2016 – a huge swing considering the state voted for Barack Obama in 2008 and 2012. Key to that win was Trump winning nine traditionally Democratic counties by big numbers.
So far, Biden is outperforming Hillary Clinton in all nine of those counties. Trump won Montgomery county, in south-east Ohio, with 47.7% to Clinton's 47%. Tonight, with 62% of the votes counted, Biden is leading 58.6% to 39.9%.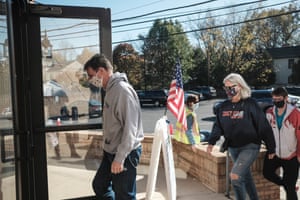 I'm at a Republican 'victory party' in Ashtabula county – one of the pivots Trump took in 2016 – and the results have people worried.
A big caveat to all this, however, is that Ohio has reported early voting first. Republicans here are hoping that more Trump than Biden supporters voted in person today – and that those votes are yet to be counted and released.
In any case, if Trump struggles in Ohio, it would spell trouble for the president in the rest of the Midwest, where he won by a much smaller margin in 2016.
The winner of the election is determined through a system called the electoral college. Each of the 50 states, plus Washington DC, is given a number of electoral college votes, adding up to a total of 538 votes. More populous states get more electoral college votes than smaller ones.
A candidate needs to win 270 electoral college votes (50% plus one) to win the election.
In every state except two – Maine and Nebraska – the candidate that gets the most votes wins all of the state's electoral college votes.
Due to these rules, a candidate can win the election without getting the most votes at the national level. This happened at the last election, in which Donald Trump won a majority of electoral college votes although more people voted for Hillary Clinton across the US.