Kenya: Four Chinese nationals arrested over viral video where a Kenyan was publicly whipped
London, Feb. 10, 2020 (AltAfrica)-The Director of Criminal Investigations (DCI) boss George Kinoti has acted after the video of a Chinese man beating a Kenyan worker went viral.
A statement published on Twitter on Sunday, February 9, by the DCI confirmed the arrest of four Chinese nationals including the man seen the viral video caning a Kenyan staff at a restaurant in Kileleshwa.
"Following reports of an incident doing rounds in sections of the press depicting a man of Asian descent assaulting a male employee said to be working at a hotel, this morning detectives from Kilimani raided Chez Wou Restaurant in Kileleshwa in pursuit of the matter," the DCI announced.
The detectives also indicated that they arrested two other members of Chinese nationality who were working in the restaurant.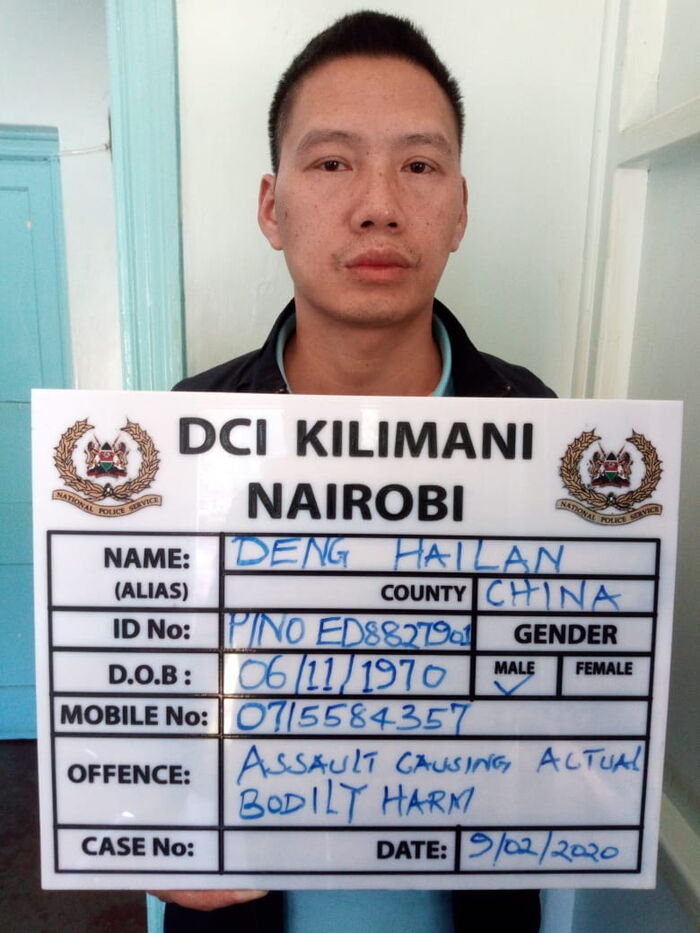 The two identified as chefs Chang Yueping and Ou Qiang were accused of conducting their day to day operations in the country with expired visas.
Quiang was also caught up in deeper problems when the detectives discovered that he did not possess a work permit and was thus working illegally in the country.
The DCI also arrested Yu Ling, a cashier at the hotel holding a visitor's visa but without a work permit.
The detectives also announced that eight Kenyans who work at the hotel were escorted to Kilimani Police Station for further interrogation.
The move by DCI comes after a massive outcry from Kenyans who demanded the arrest of the culprit in the viral video.
The video portrays a Kenyan man leaning against the wall while the Chinese national whipped him with a stick as other individuals laughed in the background.
Made public by K24 TV on Saturday, February 8, it drew widespread condemnation from a section of Kenyans who termed the incidence as rogue and demanded immediate action from the authorities.
READ ALSO: NIGERIA TO BEGIN MECHANISED FARMING IN 632 LGAS
It also drew condemnation from the Chinese Embassy which indicated that it would support the government in every effort to bring the suspect to book.