Cheers, Fireworks, Prayers as Africa joins rest of the world to usher in year 2020
London, Jan. 1, 2020 (AltAfrica)-Africans have joined the rest of the world to celebrate and usher in a new year, 2020 while bidding farewell to a decade that will be remembered for many things
The rise of social media, the Arab Spring, the #MeToo movement and, of course, President Donald Trump among many others including the depose of the Sudanese strong man, Omar
AlternativeAfrica.com tracks the New Year's festivities across the globe beginning from South Africa
The new year, 2020 was ushered in with fireworks display in many parts of the world, including Lagos Nigeria, where there was a countdown at the Eko Atlantic City.
It was a double event at the venue as rapper Naira Marley also had a concert going on simultaneously.
Thousands of revelers gathered at Cape Town's Waterfront area to ring in the new year with music, dancing and fireworks in front of the city's iconic Table Mountain.
In past years, residents of Johannesburg's poor Hillbrow neighborhood would celebrate the New Year by tossing furniture, appliances and even refrigerators from the balconies of high-rise apartment buildings. Police have issued stern warnings and it appears the dangerous tradition has declined.
In a somber statement, President Cyril Ramaphosa said "while our economy created jobs, these have not been nearly enough to stop the rise in unemployment or the deepening of poverty."
South African singer Yvonne Chaka Chaka was deported from Uganda, where she was to perform at a New Year's Eve event. Ugandan police cited visa issues, but Ugandan media reported it was because she had voiced support for Ugandan pop star Bobi Wine, the most potent opposition challenger to President Yoweri Museveni.
— India's NYE activities overshadowed by protests
Fireworks at the Brandenburg Gate
23:00 Frohes neues Jahr! Germany and most of Europe has entered 2020. People across Germany watched fireworks and celebrated the start of the new decade together.
The firework display above the Brandenburg Gate in Germany is one of the largest in the country. In Paris, the light show ended to be replaced by a firework display above the Arc de Triomphe.
In Brussels a the traditional firework display was replaced by a light show using drones.
New year 2020 in Paris
New Year in Germany: Germans wish one another "einen guten Rutsch" — literally, a "good slide" into the new year.
You can have a look at Chancellor Angela Merkel's priorities for the new decade if you're still searching for last-minute inspiration for your resolutions.
Meanwhile, in France many celebrators had their travel plans disrupted by the ongoing transport strike. Only a limited service was available in Paris for those who wished to flock to see a light display on the Arc de Triomphe.
Preparations at the Brandenburg Gate in Berlin
22:00 Much of eastern Europe, the Middle East and southern and eastern Africa welcomed the new year.
In Israel, Jewish New Year or Rosh Hashana was celebrated on September 30 2019, but Israelis of all backgrounds famously cannot resist a party, with many celebrations expected across the small country. Many Israelis will be hoping for political stability in 2020 as Israel heads to the polls in March for a third time within twelve months.
Meanwhile, in Muslim-majority countries like Egypt, Lebanon, Jordan and Syria, the Islamic New Year began on September 1 2019 — it is currently the year 1441. Nevertheless many of these countries celebrated the new year in style, with fireworks displays and street parties. In Beirut, anti-government protesters took to the street along with party-goers.
00:00 January 1 2020 The UK, along with Portugal, Iceland and Ireland, was among the last European countries to enter 2020. In London, party-goers watched fireworks displays over the London Eye ferris wheel.
London fireworks display above London Eye
In Scotland, where New Year's Eve is called Hogmanay, thousands flocked to Edinburgh for the UK's largest street party. Scotland's national poet Robert Burns is the composer of internationally well-known New Year's song Auld Lang Syne, which is traditionally played at midnight in many countries.
Our brand new High Street Stage is looking 😍 at the Street Party hosted by Johnnie Walker.

Go catch @IdlewildtheBand, @TheSnuts and @Shooglegigs up on that stage. #BEtogether #EdHogmanay pic.twitter.com/nwHggZngln

— Edinburgh's Hogmanay (@edhogmanay) December 31, 2019
#Beirut protesters celebrating the new year in downtown #LebanonProtests #happynewyear2020199:58 PM – Dec 31, 2019Twitter Ads info and privacySee Dalal Mawadدلال معوض's other Tweets
#Beirut protesters celebrating the new year in downtown #LebanonProtests #happynewyear2020 pic.twitter.com/31COsHm3hD

— Dalal Mawadدلال معوض (@dalalmawad) December 31, 2019
In Ukraine, while January 1 is a public holiday, many Ukrainians prefer to celebrate "Old New Year" or "Orthodox New Year" which falls on January 14 2020 by the Gregorian calendar.
Greece, Bulgaria, Romania, Latvia and much of Africa including Zimbabwe, Zambia and South Africa also welcomed the new year. In South Africa, the government banned fireworks except under very strict conditions.
21:00 Western Russia, including the capital Moscow, is officially in 2020. With 11 time zones, Russians began the world's longest continuous New Year's Eve with a message from President Vladimir Putin urging them to work together. The message was broadcast on television before midnight in each of the 11 time zones.
Dancers take to the streets in Moscow
Countries in the Horn of Africa and East Africa, Turkey, Saudi Arabia and Iraq were among other time zones jumping into the New Year. In Saudi Arabia, a rare plan to have a New Year's celebration with fireworks and a DJ near Riyadh was reportedly banned because it was unlicensed. The ultra-conservative kingdom has in recent years taken steps to implement social and economic reforms, including allowing more entertainment.
20:30 Iran is technically bringing in 2020, but most people in the country don't celebrate the New Year under the Gregorian calendar. Iran has its own ancient solar calendar that is the official one of the country. The Persian New Year Nowruz, literally "New Day," is usually celebrated around March 21 of the Gregorian calendar.
Burj Khalifa in Dubai
20:00 Tourists and locals in Dubai kicked off the New Year with one of the world's top fireworks shows at the Burj Khalifa skyscraper. The New Year's Eve display at the 828-meter-tall (2,716-foot-tall) structure was just one of seven different fireworks shows across the emirate. Before the show, 14 skydivers with flares looked like meteors flying through the sky.
A formation of 14 wing-suit skydivers with flares perform a thrilling spectacle in the skies of Downtown Dubai, moments before the city rings in 2020. #MyDubaiNewYear pic.twitter.com/6Yf7Q3dMFm

— Dubai Media Office (@DXBMediaOffice) December 31, 2019
Armenia, Azerbaijan, Georgia, Oman and parts of Russia also brought in the new decade.
20:00 Pakistan, Central Asian states Tajikistan, Turkmenistan and Uzbekistan, and parts of Russia have entered the New Year.
18:44 Pope Francis gave a New Year's Eve homily at the Vatican calling on people to "build bridges, not walls." He also urged the church and people to become close again and listen to each other. "We are called to meet others and to listen to their existence, their cry for help," the pontiff said. "In this way, fresh air is actually spreading in the city and also in the Church, the desire to go back onto the streets, to overcome the old logic of opposition and borders, to work together and to build a fairer and more fraternal city," Francis said.
Fireworks explode above the Gateway of India monument in Mumbai, India
18:30 People across India greeted the New Year, but in some areas the festive mood was dampened by protests. Despite the second-coldest weather gripping New Delhi in a century, thousands of protesters there and in other cities joined demonstrations and protest parties against a new citizenship law they say discriminates against Muslims. The past year has also seen a crackdown in Indian-controlled Kashmir after the government downgraded its semi-autonomy and imposed a strict security and communications lockdown.
Demonstrators listen to a speaker at a protest against a new citizenship law in New Delhi
18:00 Revellers in Bangladesh, Bhutan, Kyrgyzstan and Kazakhstan are entering a new decade.
17:50 Thousands of Indians angry about Prime Minister Narendra Modi's new citizenship law they say discriminates against Muslims were preparing to ring in the New Year with street party protests. Protesters held readings from the constitution, listened to poetry and music, and staged candle-light marches at these gatherings.
16:50 Residents of the Spanish village of Villar de Corneja celebrated New Year 12 hours early, the DPA news agency reports. Elderly villagers — most now over 80 years of age — have celebrated at midday every year since 2004 because they do not want to stay up too late. They celebrated in typical Spanish style, gathering in the village square to eat grapes with every chime of the town hall clock.
16:00 Nations across Asia, including Hong Kong celebrated the start of 2020. The mood in Hong Kong was not as light as in other years, as protesters continued to flood the streets and chant pro-democracy slogans.
The annual fireworks display was canceled due to security concerns and replaced with a New Year's themed version of its daily light show, "A Symphony of Lights". The city has seen its most major protests this year, with ongoing demonstrations taking place since June.
Celebrants in the Philippines, however, started their New Year with a more jovial atmosphere. The Philippines plays host to a range of unique New Year traditions, including eating long noodles for good luck and trading round items to symbolize prosperity. Revelers often fill their pockets and drawers with round coins, and give round gifts to friends and family.
15:00 Tourists and residents alike visited temples and shrines across Japan to recognize not just the end of the year, but also the first full year of the Reiwa era.
Celebrants release balloons as they take part in the New Year event in Tokyo, Japan, on Jan. 1.
Former Japanese Emperor Akihito made history when he became the first Japanese emperor to abdicate the throne in 200 years. His abdication, and the subsequent accession of his son, Emperor Naruhito, marked the end of the nearly three-decade-long Heisei era.
Revelers visit the Yasaka Shrine in Kyoto on December 31.
The new monarch isn't the only exciting thing for Japan in 2020; Tokyo is also set to host the 2020 Summer Olympics.
Both North and South Korea are also celebrating their New Year. Last year, North Korea moved its time zone 30 minutes forward to match Seoul's. Northern leader Kim Jong-un is also set to make a New Year address Wednesday to share his plans in case the United States fails to meet his deadline to alter its stance on denuclearization.
Meanwhile, in Seoul, revelers gathered en masse for the Bosingak bell-ringing ceremony. The ceremony, which involves ringing a large bell, has brought tens of thousands of celebrants to the square since 2006. Multiple major fireworks displays also took place around the city. But it's not just the fireworks that people were waiting for. In South Korea, it's also popular to celebrate by watching the first sunrise of the year.
The last sunset of 2019 is seen above Hwaseong Fortress, 46 kilometers south of Seoul.
The first provinces in Indonesia, including Papua, the country's easternmost province, kicked off their start to 2020 as well. In August, Papua saw a violent wave of unrest after 43 students were arrested in Surabaya for alleged disrespect of the Indonesian flag. Mass protests and riots with thousands of participants ensued, leaving 30 people dead.
14:00 Russia's Sakha Republic celebrated its first of two New Years in 2020. Sakha people, or Yakuts, first celebrate with the rest of the Russian population in winter, then celebrate a second New Year, called Yhyakh, in the summer. The Yhyack festival is held on June 21, which is the start of summer in the region. During the celebration, women and children decorate trees and posts with bunches of horsehair, in addition to engaging in a traditional dance that includes singing and poetry.
Otherwise known as Yakutia, the Sakha Republic is one of Russia's coldest regions, with winter temperatures sometimes dipping as low as -60 degrees Celsius.
Papua New Guinea, Australia's Queensland and the Federated States of Micronesia also rode into 2020 at 2 p.m. UTC.
13:45 Check out this photo gallery to find out what Germans are up to on New Year's Eve.
10 GERMAN TRADITIONS ON NEW YEAR'S EVESlide into the New YearShortly before New Year's Eve, people you meet will typically wish you a "Guten Rutsch," which literally translates as "have a good slide." The expression could come from the Yiddish word "rosch." Rosh Hashanah, the name of the Jewish New Year, is, however, set in the fall on a different date every year. Other linguists relate the expression to the archaic German meaning of "Rutsch" – a journey.
13:30 Police in Hong Kong said they found a stash of firebomb materials after suspects offered the location. Officers discovered 60 liters of petrol and 51 glass bottles — enough to produce 100 firebombs. They believe the materials were intended for use during anti-government protests planned for New Year's Eve.
#NOW More than 100 join human chain on New Year's Eve along Hennessy Road on Hong Kong Island at 9pm as they chanted slogans8001:26 PM – Dec 31, 2019Twitter Ads info and privacy584 people are talking about this
13:00 Australia's New South Wales, Tasmania and Victoria celebrated rang in a dry New Year, with the country's worst bushfire season on record forcing residents who would otherwise be celebrating, taking refuge.
Sydney's world-famous fireworks show was one of the first across the globe to kick off the New Year
Crowds thronged Sydney Harbor for the second round of fireworks (the first display was at 9 p.m. local time), despite widespread calls to cancel the event.

Sydney Harbor New Year Celebrations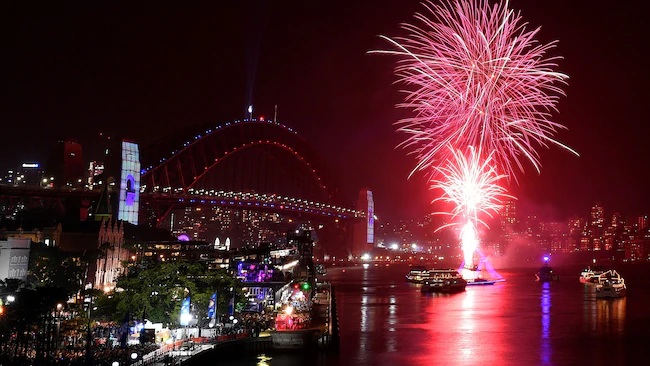 1:03 PM – Dec 31, 2019Twitter Ads info and privacySee Nazhinaz's other Tweets
As partygoers celebrated in Sydney, other Australians on the eastern coast took refuge on beaches under skies turned red by the blazes. Meanwhile, New Year's celebrations remained canceled in Canberra, summoning a quieter celebration than in years past.
This photo needs to be the front page of every paper in Australia for the first day of the new decade. Welcome to the 20's, Australia. #mallacoota #australiaburns
42K3:22 AM – Dec 31, 2019Twitter Ads info and privacy18.4K people are talking about this
The Solomon Islands, a nation of about 611,000, also kicked off 2020. This year, the small country dealt a blow to Taiwan's international image by severing ties with Taipei and establishing diplomatic relations with China.
12:30 Hong Kong Chief Executive Carrie Lam gave a three-minute address, highlighting her resolution to "restore order and harmony" in the city. "With our resilience and wisdom, I believe we can once again overcome our current challenges and rebuild Hong Kong," she said.
Protesters prepared to ring in the New Year by chanting pro-democracy slogans in shopping malls and other public spaces. Another pro-democracy march, which tens of thousands are expected to attend, is planned for Jan. 1. The annual fireworks display, which draws thousands every year, was also cancelled, with officials citing security concerns. DW