Updated: Pictures of gunman who kills 19 in mass shooting at Texas mall
London, August 4, 2019 (AltAfrica)-At least 19 people are believed to have died following a mass shooting 'tragedy' in a Texas Walmart in El Paso, shopping centre.
A gunman opened fire and killed 'multiple' people who were doing their Saturday shopping at the Cielo Vista Mall in El Paso, said Mayor Dee Margo.
At least 22 people have been rushed to hospital and it is believed 40 have been injured, including a four-month-old baby, according to CBS News
Their injuries are believed to range from non-life-threatening to severe, while at least 19 have reportedly died, added the US news site.

A police department spokesman said there were "multiple victims", but did not confirm how many had been killed or injured.

One male was in custody, and "at this time we have ruled out multiple shooters", Sgt Robert Gomez, an El Paso police department spokesman, said. Initial reports suggested that the weapon used was a rifle, but that was not confirmed, Gomez said.
A University Medical Center of El Paso official told the Associated Press that one of 12 people who were rushed to the hospital after the attack had died.
Ryan Mielke, a hospital spokesman, said all of the victims suffered traumatic injuries. He declined to provide additional details about the victims, including the one who died.
Mielke said two children, ages two and nine, were stabilized at the medical center before being transferred to the neighboring El Paso children's
"It's an absolute tragedy," El Paso's mayor, Dee Margo, told KTSM, a local television station.
El Paso police started receiving reports of a shooting at 10 am local time on Saturday, Gomez said. Soon after, the police department tweeted that officers were responding to an active shooting scene and that people were advised to stay away from the area around Cielo Vista Mall, located south of El Paso international airport.
Texas's lieutenant governor, Dan Patrick, told Fox News that between 15 and 20 people were shot at the Walmart in El Paso, and that the suspect was a 21-year-old man. Local television station KTSM earlier reported earlier that 18 people were shot or injured inside a Walmart at the mall.
Cellphone footage broadcast by KTSM showed a person lying flat on the ground, with the sound of at least 10 gunshots in the background, and also interviewed several witnesses.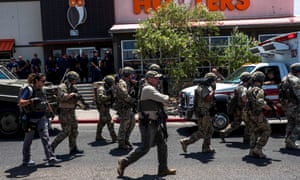 A Walmart employee described hearing gunshots and trying to get as many people as she could out of the store, and seeing customers and employees tumbling over each other in their rush to escape. One of her co-workers was shot in the hand, the employee said.
Another woman interviewed described seeing at least two or three bodies lying on the ground.

A man who had been at a store in the mall nearby told KTSM that he had heard gunshots and taken out his own gun as he ran towards the parking lot. He said police had briefly questioned him, thinking he was the shooter.
A family reunification center had been set up at a nearby middle school center, police said.

White House deputy press secretary Steven Groves issued a statement saying: "The President has been briefed on the shooting in El Paso, and we continue to monitor the situation. The president has spoken with Attorney General [William] Barr and [Texas] Governor [Greg] Abbott."
Donald Trump tweeted about the "terrible shootings" and that reports were "very bad, many killed". Law enforcement have not yet confirmed the number of fatalities.
The Democratic 2020 presidential candidate Beto O'Rourke, who previously represented El Paso in Congress, tweeted that the news was "truly heartbreaking", and said he would leave the campaign trail to return to the city.
Reports of the shooting in El Paso comes less than a week after a shooting at a garlic festival in Gilroy, California, left three people dead and fifteen injured.
Law enforcement authorities said a 19-year-old who had previously lived in town cut his way through a fence to get inside the festival, then opened fire with a military-style rifle.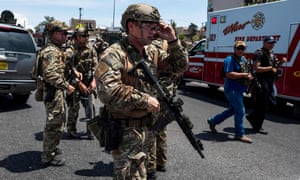 Two Walmart employees were killed in a shooting at a Walmart in Mississippi last week.
GUK