Ghana increases electricity price by 11%
London, June 21, 2019 (AltAfrica)-Effective July 1,2019, electricity tariff in the West African state of Ghana will increase by 11.17%.
According to Public Utilities Regulatory Commission (PURC), the decision was taken after careful consideration of proposals by the various stakeholders in the power sector.
READ ALSO: NIGERIAN GOVT RETURNS HISTORY TO SCHOOL CURRICULUM FROM SEPTEMBER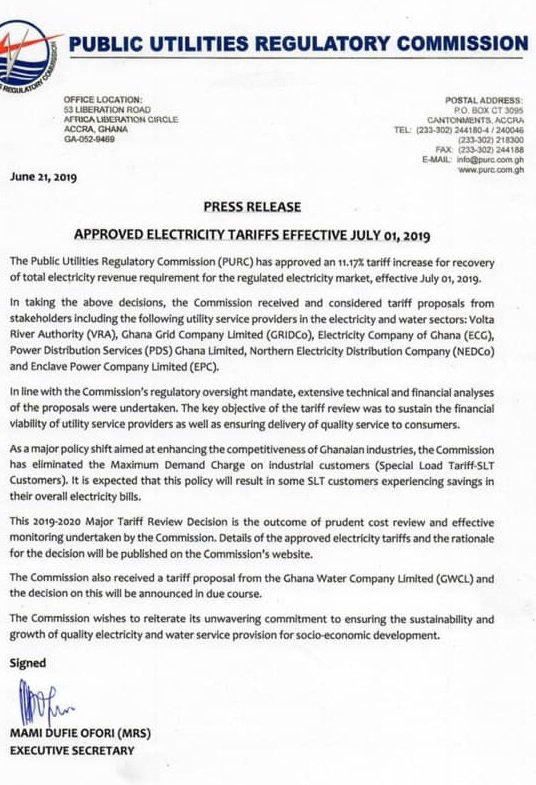 The move comes days after economist Kwame Pianim called on government to be bold and increase tariffs by 30%.
According to him, this will aid in efforts to make citizens pay realistic tariffs, suggesting that Ghana's economic growth will suffer if the government continues to subsidize electricity.
Speaking to Starr Business he said "if we can do a 30% increase. Some people advocate gradually maybe over a 5-year period. We should all close our eyes and do it once and for all and get rid of it. So that we don't have these legacy debts being there in the energy sector."
He noted, "it goes back years and we need our money for better things. For educating our people, for providing healthcare when we are sick, for creating jobs for the youth. If we don't use the monies to train our youths, they will be on the streets destabilizing our economic and political system."