From Zambia to Afghanistan, how World Bank' IDA project supports the world's poorest countries
London, June 15, 2019 (AltAfrica)-Before they had the bridge, Laotian villagers' living conditions were very harsh. Their agricultural production could not catch up with the season. Even worse, when it rained, they could not go to work or to the hospital if they were sick. Then help was on the way and an idea as simple as building a bridge over a river turned into action and transformed the farmers' lives and improved their livelihoods and wellbeing.
"The bridge has shortened the route to our farmland," says Thoumphonea, community leader from Huaphan Province. "Now, it is easier to take pregnant women and children to the health center or the hospital for vaccination."
This bridge is one of more than 4,500 projects that remote Laotian communities implemented under the Laotian Poverty Reduction Fund, a series of grassroots projects funded by the World Bank's International Development Association (IDA) to reduce extreme poverty as part the government's focus on improving the welfare of its poorest and most marginalized people. Following IDA's involvement, other donors followed suit. Over the last 16 years, more than 10,000 families have benefited from these projects.
Supporting the poorest
The bridge illustrates how IDA, the World Bank's fund for the poorest countries, works. By supporting a country's development plan, IDA takes its global knowledge and expertise to tailor its assistance to local needs.
From Afghanistan to Zambia, IDA works in the world's poorest countries.
But IDA plays a much bigger role in the global development landscape, beyond financing. IDA is present in all poor countries, works across all sectors, and supports a country's development objectives. It provides a common country platform for donors, public and private sector partners, civil society, multilateral organizations and local development stakeholders to collaborate and focus efforts to achieve most impact.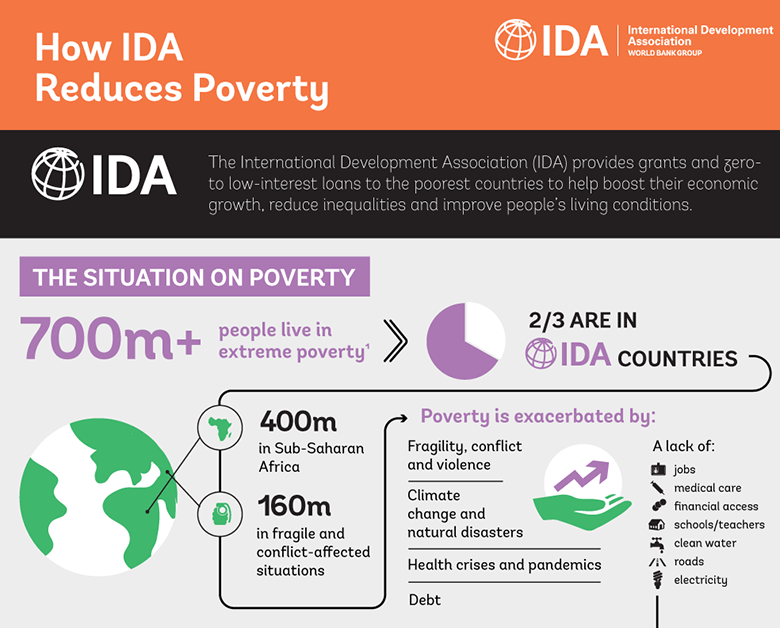 Infographic: How IDA Reduces Poverty. To view the full infographic, click here.
IDA's partners acknowledge the unique value and convening power it brings. As Peter Maurer, President of the International Committee of the Red Cross (ICRC) says, "IDA has provided a platform for improving responses to acute food insecurity for those affected by conflict. It leverages the comparative advantage of a range of stakeholders through the Bank's unique convening power."
MULTIMEDIA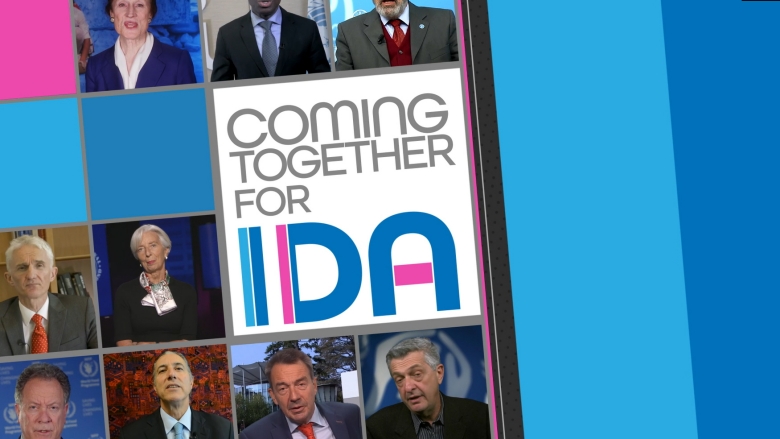 click"IDA has provided a platform for improving responses to acute food insecurity for those affected by conflict. It leverages the comparative advantage of a range of stakeholders through the Bank's unique convening power."Peter MaurerPresident of the International Committee of the Red Cross
To be eligible for IDA assistance, a country's GNI per capita must be below an established threshold, which stood at $1,145 for fiscal year 2019.
About two-thirds of the extreme poor – about 500 million people – live in 75 countrieseligible for IDA resources. Extreme poverty is increasingly concentrated in the world's most fragile countries, many of which are in Africa.
This is why IDA is increasing focus on conflict-affected and fragile countries in partnership with other agencies. It has doubled financial support to countries facing fragility to $14 billion, including a $400 million allocation to Yemen, along with more than $2 billion in additional financing for refugees and their host communities.
While the overall global poverty rate has been falling, tackling extreme poverty remains stubbornly difficult. This is because the world's poorest people are increasingly at the frontline of pressing global issues, such as fragility or climate change, which disproportionally affect them but over which they have little control.
READ ALSO: IN NIGERIA MORE PAY, FREE MEDICAL FOR TRAFFIC OFFICERS IN LAGOS AS SANWO-OLU SET TO SANITISE LAGOS ROADS
Types of IDA projects
To remain effective, IDA has been adapting to changing global needs—by acting quickly, directing financing and creating solutions for the most acute development problems. For example, it mobilized $545 million emergency support for Mozambique, Malawi, and Zimbabwe following the aftermath of Cyclone Idai, which devastated these countries in May 2019.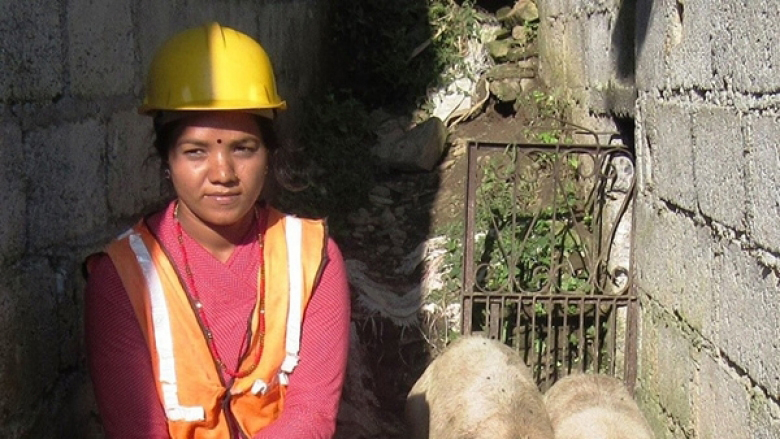 Binita Biswokarma. © World Bank
It is also why IDA is focusing on gender and jobs, such as in Nepal, where a road project is recruiting poor marginalized women to maintain rural roads.
Twenty-five-year old Binita Biswokarma from Kaski district of West Nepal was leading a difficult life. Her husband, who had migrated abroad for work, was out of contact, and she had no education, skills or farmland to fend for herself and her son. At such a trying moment, the opportunity to work as a Road Maintenance Group (RMG) member came like a beacon of hope to her. After she began working at the Rakhi Mijure Gahate Poshi Road, a section under the SNRTP, her life underwent a complete change.
"I did not have money to feed or clothe my son. Now, I earn NPR 14,092 per month. I send my son to school and have saved some money in the local cooperative," says Biswokarama. "I have replaced the roof of my home, and even bought two goats and pigs with my earnings."
The job changed Biswokarma's life. "I am grateful for this chance to work, learn and look after my family," she says.
It is also why IDA is helping countries prepare for the digital economy, such as in Kosovo where a private-public partnership is extending broadband infrastructure to rural schools, health clinics and 60,000 households in 200 villages and providing job training for 2,000 young men and women in front-end web development.
Or why it is financing innovative social protection projects and working with private mobile money operators to provide digital cash transfers to vulnerable and hard-to-reach households in Cote d'Ivoire. More than 300,000 people, more than half of whom are women, have benefitted from mobile money accounts and access to digital financial inclusion.
Or why with partners, IDA is coordinating wide-ranging efforts in Haiti from helping to rebuild infrastructure and restore government institutions to provide kids, like 11 year-old Jessica Prudent, with an opportunity to attend primary school.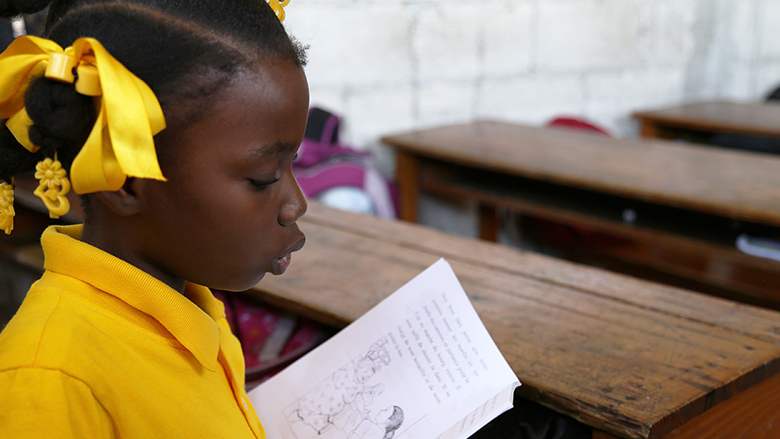 11-year-old Jessica Prudent from Port-au-Prince, Haiti. © World Bank
These projects and more highlight IDA's approach to improving the lives of the poorest people in the world.
IDA's assistance is currently focused on supporting projects that create jobs and spur economic growth; help women participate fully in the economy; build climate resilience and address fragility, conflict, and violence.
IDA's history for a better world
The idea behind IDA—to pool and leverage funds to reach more people and achieve greater impact—was innovative when IDA was created in 1960. At that time, poor countries desperately needed capital but couldn't afford to borrow at the same rates as middle-income countries, which is why the World Bank's shareholders created the International Development Association (IDA), a fund that offered grants and concessional loans. Since then, IDA has provided more than $360 billion for investments in 113 countries.
Many countries that no longer rely on IDA support have gone on to help finance IDA. Today, the IDA donor coalition includes 55 countries.
IDA Deputies (officials from donor countries) meet every three years to discuss IDA's strategic direction and replenish its funds. Representatives of borrowing countries are invited to the meetings to ensure that IDA's policies and financing fit country needs.

Click here to explore the interactive map.
Looking ahead to IDA19: Growth, people and resilience
The calendar year 2019 is key for IDA, as IDA Deputies are shaping the policy package for IDA19, which will cover fiscal years 2021-2023, and which will be announced in December.
IDA19 will continue to deepen its focus on five strategic themes of jobs and economic transformation; governance and institutions; gender; climate change; and fragility, conflict and violence.
At the same time, it will tackle emerging challenges such as debt sustainability, take advantage of opportunities opened by the digital economy and continue to invest in people (dubbed "human capital") and inclusive development—because when people are healthy, educated and able to participate despite disability, they can prosper.
With this strong focus on growth, people and resilience and collaboration with a wide coalition of partners, IDA aims to eradicate extreme poverty over the next decade, create opportunities for the world's poorest people and help IDA countries reach the Sustainable Development Goals.
World bank