Ghana: Freed Canadian girls reunite with families
London, June 14, 2019 (AltAfrica)-The two Canadian girls rescued from their kidnappers on Wednesday in Kumasi, Ghana have landed safely in their home country, according to a report by Starrfm.com
The Canadian girls, Lauren Patricia Catherine Tilley, 19, and Bailey Jordan Chitty, 20, have reunited with their families at Rothesay and Amherst respectively.
A private jet arranged by the Canadian government flew them from the Heathrow Airport in London having left Ghana with a British Airways flight.
"My chosen family whom I have the honour of working with everyday have been my quiet rock (along with many others). Today we celebrate Love wins," the health worker at the Cumberland Health Authority and mother of Bailey Chitty posted on Facebook.
Eight arrested
The rescue operation on Wednesday lasted for less than half an hour, according to Ghana's information minister Kojo Oppong Nkrumah.
Eight suspects are currently in police custody assisting with investigations. They include five Ghanaians and three Nigerians, information Minister Kojo Oppong Nkrumah said at a press conference in the capital Accra.
Mr. Nkrumah said the operation did not include any foreign security.
RELATED: KIDNAPPERS OF CANADIAN GIRLS IN GHANA HAD BOMB-REPORT
He said: "The operations started Tuesday evening and there was no foreign assets involved in the operation. It was entirely done by the national security and security outfits of Ghana. The operation lasted for 25 minutes."
"We want to assure the world that Ghana is safe and there is no security threat," the minister added.
Meanwhile Canada's High Commission to Ghana has expressed the appreciation of its government to the Ghana Police Service and the government of Ghana for the quick rescue of two of its citizens on Wednesday, 12 June 2019 after they had been abducted from the Royal Golf Club in Kumasi on 4 June 2019.
"Thanks to the Ghana Police Service and the Government of Ghana for all efforts made to secure the safe release of the Canadians. We also appreciate the messages of support and concern from many Ghanaians and Canadians," the High Commission posted on its official Facebook page.
The two women are Lauren Patricia Catherine Tilley, 19; and Bailey Jordan Chitty, 20.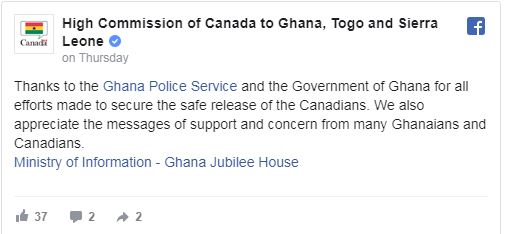 Eight suspects have been arrested in connection with the kidnapping.
The suspects are made up of five Ghanaians and three Nigerians, Information Minister Kojo Oppong Nkrumah told journalists on Wednesday, 12 June 2019.
Mr Nkrumah also denied claims that the government of Ghana received support from the Canadian government in rescuing the volunteers.
He said: "There was no support from foreigners in rescuing the girls."
"The operation involved the CID of the Ghana Police Service, the Bureau of National Investigations, the Special Weapons and Tactics Unit of the National Security Council and the Defence Intelligence. No foreign assets were involved in the operation," he stated.