Updated: Kenya police arrest Johannesburg bound passenger after false bomb alarm at Jomo Kenyatta Airport
London, April 17, 2019 (AltAfrica)– A passenger was today arrested for allegedly raising a false alarm in a Johannesburg-bound Kenya Airways plane that forced the flight to abort take off at the Jomo Kenyatta International Airport (JKIA), Nairobi
Police have said the commotion began after an argument between the said passenger and a flight attendant.
It is alleged that the passenger mentioned the word 'bomb' during the argument, causing a scare in the plane, which was getting ready for take-off.
This forced the pilot to abort the take off as the man was arrested and handed over to police for interrogation.
In a statement issued, the aviation company stated that they had been notified of a potential bomb threat on one of the flights that was set to depart for South Africa.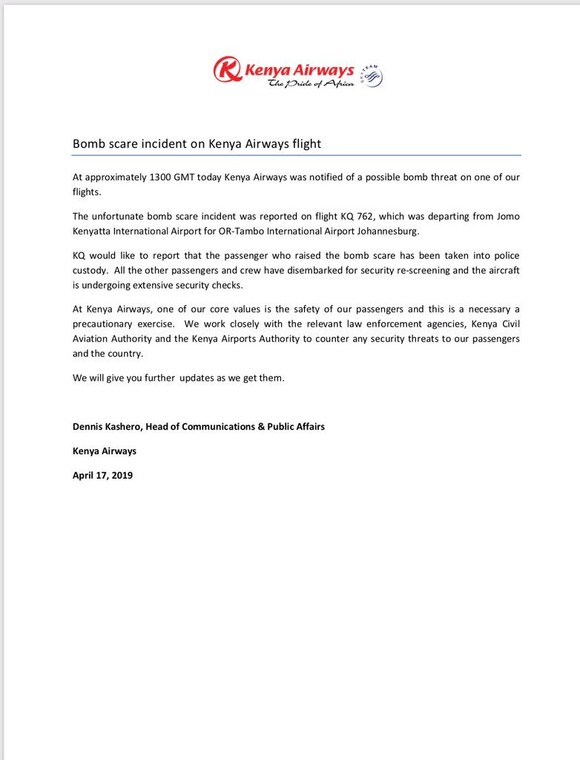 Kenya Airways statement over a bomb scare at JKIA
It was reported that the passenger who raised the false alarm, had been apprehended and taken into police custody.
The rest of the passengers aboard the flight KQ 762 were however taken back for re-screening, as the plane was subjected to extensive security checks.
Turkish airlines flight bomb scare
In 2017, a Turkish airlines plane making its trip from Kenya's capital Nairobi to Egypt, was forced to make an emergency landing in Khartoum, Sudan over a bomb scare.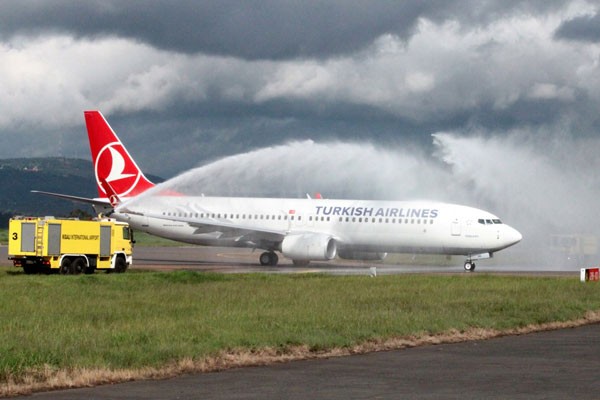 A Turkish Airlines plane lands at JKIA, Nairobi (Nation)
Sudanese civil aviation authority spokesman Abdul Hafiz Abdul Rahim had remarked that the flight was allowed to make the landing and the 107 passengers on board evacuated as the authorities searched the plane for the device.
He added that the Sudanese authorities had questioned a British passenger who had made the claim, in the presence of a representative from the UK embassy in the country.Author: Mark Mwithaga Source Kenya