EU to accept Brexit delay if UK MPs back deal
London, March 20, 2019 (AltAfrica)-The EU will only agree to delay Brexit if the UK Parliament approves the current withdrawal agreement next week, Theresa May has been told.
EU Council President Donald Tusk said a short extension, requested by the prime minister on Wednesday, was possible.
Mrs May has written to Mr Tusk requesting a Brexit delay to 30 June, saying she needed more time to get her withdrawal deal passed by MPs.
The UK is due to leave the EU next Friday, on 29 March.
Mr Tusk said he believed all 27 other EU members, who must sign off on the extension, would agree but it depended on a "positive" vote in the House of Commons.
The length of any extension was open for discussion, he told reporters in Brussels.
While a delay until 30 June "had its merits", he also suggested there were "political and legal" questions about delaying Brexit beyond 23 May – when European elections will be held.
While the current withdrawal agreement could not be changed, he suggested additional legal assurances the EU gave Mrs May in Strasbourg last week could be formalised to help get the backing of MPs.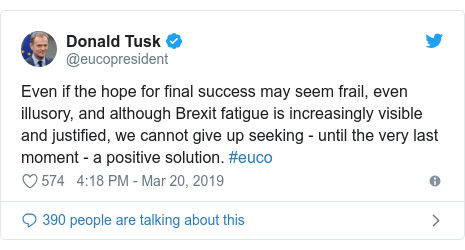 Mr Tusk spoke to Mrs May before his statement.
Meanwhile, an emergency debate is under way in Parliament, with Labour pressing for further detail about the PM's intentions and demanding that any delay is long enough to allow MPs to "break the impasse and find a way forward".
The prime minister is due to meet MPs from opposition parties later to discuss her letter.
May attacks MPs' Brexit 'indulgence'
At a highly charged Prime Minister's Questions earlier, Mrs May said MPs had "indulged themselves on Europe for too long" and voters "deserved better".
She said she had rejected calls for a longer delay to Brexit because she wanted to avoid the UK taking part in European elections in May, which she said would be an "unacceptable" three years after voting to leave the EU.
"It would be a failure to deliver on the referendum decision this House said it would deliver," she told the Commons.
But she added: "As prime minister I could not consider a further delay beyond 30 June."
This was seen by some as an indication that Mrs May would resign rather than seek a further delay.Skip Twitter post by @bbclaurak
Implication of what PM saying v forcefully is that she might resign if Parliament or the EU forces delay beyond end of June2,04712:27 PM – Mar 20, 2019Twitter Ads info and privacy2,028 people are talking about thisReport
End of Twitter post by @bbclaurak
Labour leader Jeremy Corbyn accused her of leading the UK into "crisis, chaos and division".
"We are still legally due to leave the European Union in nine days' time," he told Mrs May at PMQs.
"Months of running down the clock and a concerted campaign of blackmail, bullying and bribery has failed to convince the House or the country that her deal is anything but a damaging national failure and should be rejected."
He urged the prime minister to meet him later on Wednesday to discuss a "compromise to get through this crisis", a plea ignored by the PM.
The Labour leader will travel to Brussels on Thursday to meet the EU's chief negotiator Michel Barnier. He is also expected to hold talks with several EU 27 leaders.
PM's request to EU
In her letter to Mr Tusk, the prime minister says she had wanted to hold a Commons vote on her withdrawal agreement this week but had been prevented from doing so by Commons Speaker John Bercow.
But she adds: "It remains my intention to bring the deal back to the House."
If the motion is passed, more time will be needed for Parliament to ratify the deal, she says. There is no mention in the letter of a longer delay, as some had been expecting.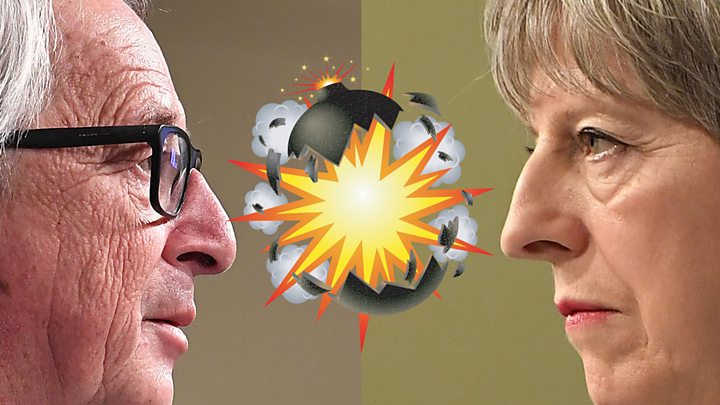 Mrs May, who has been meeting groups of cabinet ministers on Wednesday afternoon, told MPs that an extension beyond 30 June would not "take no-deal off the table" if an agreement had still not been reached.
She has repeatedly insisted the UK would leave the EU on 29 March and she told MPs it had always been her preferred option, but with a withdrawal deal to ensure it was an "orderly" exit.
But she was forced to seek a delay after MPs twice rejected the withdrawal deal she has agreed with the EU by massive margins and voted to reject a no-deal Brexit.
Her plan to hold a third vote on the deal this week were blocked by the Speaker, John Bercow, who said it would break longstanding conventions preventing MPs from being repeatedly asked the same question. BBC