Nigeria Air Force deploys attack helicopters to potential flash points against election violence
London, March 8, 2019 (AltAfrica)-Ahead of Saturday's governorship and state Houses of Assembly elections, the Nigerian Air Force has deployed fighter planes and attack helicopters in some potential flashpoints across the country.
The air wing of the Nigerian military also said it has concluded airlifting of electoral materials to 31 locations in the country for onward distribution to Central Bank of Nigeria (CBN) locations and polling stations.
In a chat with THISDAY in Abuja, NAF spokesman, Air Commodore Ibikunle Daramola, said attack helicopters, fighter planes and intelligence gathering platforms have been put on standby for potentially violence-prone areas.
He said: "We have other aircraft, the ISR platforms, attack platforms, and helicopters; they have been deployed in different locations across the country.
"Depending on where they are, they provide surveillance, reconnaissance in a show of force. They give feedback to operations or situation room."
On the airlifting of election materials, he said NAF had concluded delivery and was looking forward to a successful election.
According to him, "In terms of delivery of electoral materials to all the 31 locations that has been done because that is where they have airfields and we used the transport aircraft.
"From those locations, the materials are moved to the various CBN locations and local government areas that cover INEC logistics responsibilities. We are good to go."
The Chief of Air Staff, Air Marshal Sadique Abubakar, had at a meeting with Air Force commanders, said contingency plans were put in place in case of any breakdown of law and order.
He said NAF hospitals and medical centres were put on the alert to assist in attending to any medical emergencies.
On election materials, Abubakar said eight aircraft were deployed in the airlift operations flying a total of about 340 hours in 257 sorties with about 120 crew members comprising pilots, technicians and other specialists operating on a round-the-clock basis.
INEC Declares Readiness for Elections
Also briefing on the elections, the Independent National Electoral Commission (INEC) declared its readiness, adding that all materials for the elections have been delivered to all states and the Federal Capital Territory (FCT).
There would be governorship elections in 29 states and assembly polls in 36 states, with FCT holding its area councils contests.
The commission also warned that it would not tolerate the act of holding its officials hostage and forcing them to declare winners under duress, saying that if such occurs, it would not issue Certificates of Return to any culpable politician.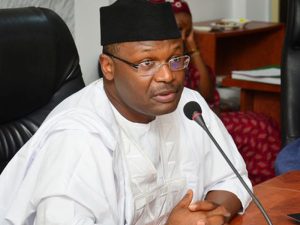 The Chairman of the commission, Prof. Mahmood Yakubu, disclosed this Thursday during the Inter-agency Consultative Committee on Election Security (ICCES) meeting held at INEC Headquarters, Abuja, where he equally decried loss of its electoral materials to hooliganism and violence.
He added that all materials and relevant personnel would arrive at the Registration Area Centres (RACs) today, noting that with this arrangement the commission is confident that all polling units will open at 8a.m. nationwide.
Yakubu stated: "On Saturday, 9th March, 2019, Nigerians are once again going to the polls to elect governors in 29 States, 991 members of Houses of Assembly in all the states of the federation, 6 chairmen as well as 62 councilors for the Area Councils in the FCT.