Anxiety in Zimbabwe as govt threatens arrest over premature claim of victory
Zimbabwe's election has been dubbed a two men horse race between Zanu-PF President Emmerson Mnangagwa and MDC's Nelson Chamisa. Photo: Jekesai Njikizana, Ahmed Ould Mohamed Ould Elhadj / AFP
Harare, July 31, 2018 (AltAfrica)-Zimbabwe's government warned election candidates on Tuesday they faced prosecution and jail for prematurely announcing results of landmark polls after the main opposition MDC party said it had won.
"As a government we have noted with concern the actions and conduct of some political party leaders… who are openly declaring that they will announce results irrespective of provisions of the law," said Home Affairs Minister Obert Mpofu at a media briefing in Harare.
ZEC Commissioner Moyo says the commission "might investigate" Tendai Biti after announcing Nelson Chamisa as President elect.@eNCA#ZimElections2018 #ZimDecides2018
"I am sure no one wants to provoke the wrath of the law and risk being sent to jail," said Mpofu.
Zimbabwe's former finance minister Tendai Biti said on Tuesday his opposition MDC Alliance party will be forced to declare its own election results should the Zimbabwe Electoral Commission not release the results on time.
Biti told journalists earlier, that according to results from their agents, Nelson Chamisa is the new Zimbabwean president.
Speaking at a press conference in the capital, Harare, the MDC Alliance's Tendai Biti said there was a clear attempt by Zanu-PF to interfere "with the people's will".
He warned the party not to "plunge Zimbabwe into chaos".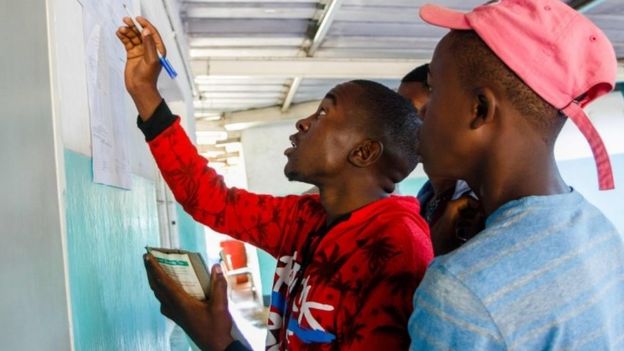 The opposition announcement pre-empted official results.
A Zanu-PF spokesman told the BBC he had "no clue" what Mr Biti was talking about.
And Home Affairs Minister Obert Mpofu said those who violated election rules by prematurely declaring victory risked incurring the "wrath of the law".
Zanu-PF, which has been in power since Zimbabwe won independence from Britain in 1980, has been accused of rigging previous elections to keep Mr Mugabe in office.
Mr Mnangagwa has promised a free and fair election.
What's been the reaction on the streets?
There have been celebratory scenes outside the MDC Alliance headquarters in Harare.
Crowds have been blocking the road, singing and dancing, since Mr Biti said that Mr Chamisa had won.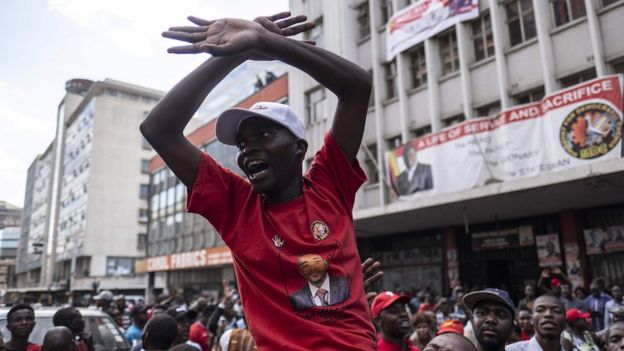 A truckload of policemen and water cannon drove near the building in an apparent show of force.
However, many businesses reopened on Tuesday after being shut on voting day, a public holiday.
When will we know the official winner?
The Zimbabwe Electoral Commission (Zec) has until Saturday to announce the results but its chairwoman, Priscilla Chigumba, said she expected the announcement to be made well within that deadline.
"We will not subvert [the people's will]," she said at a press conference, rejecting allegations that there had been ballot rigging.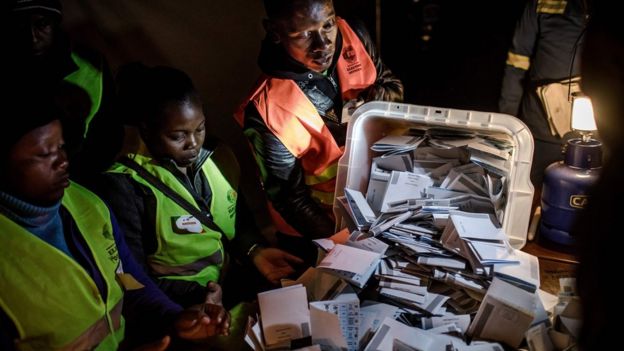 Observers say the race between Mr Mnangagwa's Zanu-PF party and Mr Chamisa's MDC Alliance is extremely tight.
Both men are among 23 candidates running for president.
Zec has announced some of the results in the parliamentary elections but says it needs time to pull together the figures for the presidential poll from across the country.
A presidential candidate needs more than 50% of the vote to win outright. Otherwise, a run-off election will be held on 8 September.
In a tweet, Mr Mnangagwa expressed confidence about his chances but added that he was "waiting patiently for official results as per the constitution".
By Pumza Fihlani, BBC News, Harare
The electoral commission held two press conferences on Tuesday in a bid to keep the public informed.
But it is the result of the presidential election that people want to know, and that will not be ready for another few days.
There were more than 10,000 polling stations, and collating the votes will not be an easy task.
In the meantime, accusations are surfacing and anxieties are starting to creep in.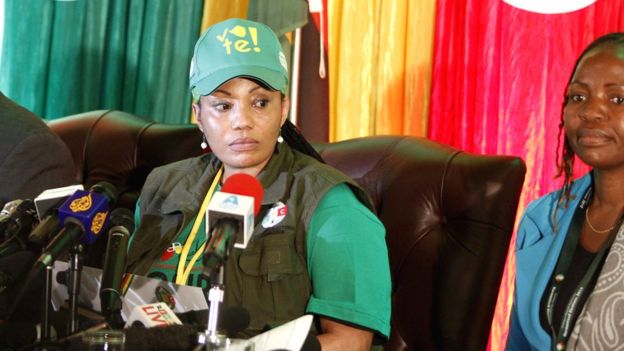 On the sidelines of the jostling of the politicians, the fake news media machine has kicked into full gear, with social media accounts, purporting to belong to politicians, claiming victory for their parties.
While the voting process was peaceful, the waiting and any perceived delays could raise the temperature here.
The commission has told South Africa's public broadcaster that it is under no "political pressure", implying that it will not be rushed.
But in the age of social media, where false stories thrive in an information vacuum, it does raise questions about how democracies can respect the electoral process without creating room for the very credibility of that process to be jeopardised.
Additional report from BBC