Britain's battle to curtail winter hill fire enters day six
Soldiers have been drafted in to tackle the Saddleworth fire (PA)
London, July 3, 2018 (AltAfrica)-Britain has battled unsuccessfully to put out a large wildfire on Lancashire moorland for the past five days but there are growing fears that it may burn for another week, police said on Monday.
About 200 firefighters from across England have been deployed to tackle the blaze on Winter Hill near Bolton in "testing conditions". Yet there have been little sucess
About 100 soldiers from the Royal Regiment of Scotland were sent from their Yorkshire barracks on Thursday to aid firefighters in Saddleworth for an initial 48-hour deployment but the blaze is entering the sixth day.
A major incident was declared when winds caused two fires to merge near communication masts on Saturday.
The flames have spread close to Grade II-listed Rivington Terraced Gardens, which had received £3.4m of lottery funding two years ago for improvements.
The Winter Hill blaze, near a major TV transmitter, is smouldering in pockets across a 3 sq miles (8 sq km) area.
A 22-year-old man, from Bolton, was arrested on Friday on suspicion of arson with intent to endanger life.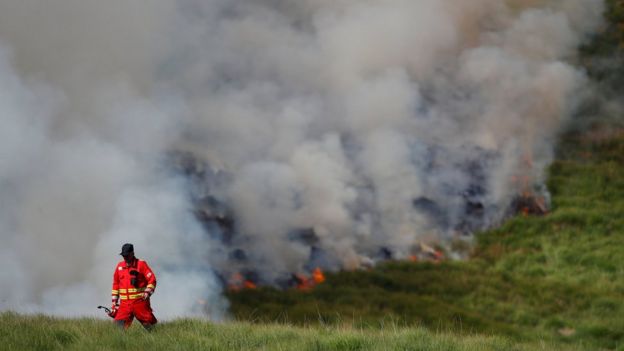 Crews from across the country have also joined firefighters and the Army combat a blaze 30 miles away at Saddleworth Moor in Greater Manchester, which started a week ago.
Along with the Winter Hill fire, it has covered the region in smoke and ash. People in nearby areas have been asked to keep doors and windows closed.
Police have also repeated their advice that people stay away after a man collapsed from smoke inhalation when he ignored police cordon tape.
Lancashire Fire and Rescue Service appealed for people not to fly drones over the scene.
The service also tweeted this picture of how firefighters are helping to protect wildlife.
Rivington Terraced Gardens, set up by one of the founders of the Lever Brothers multinational firm, will remain shut on Monday because of the fire.
Andrew Suter, from Rivington Heritage Trust, said: "While there are bigger concerns with life and other loss elsewhere, we are desperately trying to make sure the fire doesn't reach the garden."
On Facebook, the organisation criticised some members of the public who were reportedly seen taking selfies near the fire.
---
How common are moorland fires in the UK?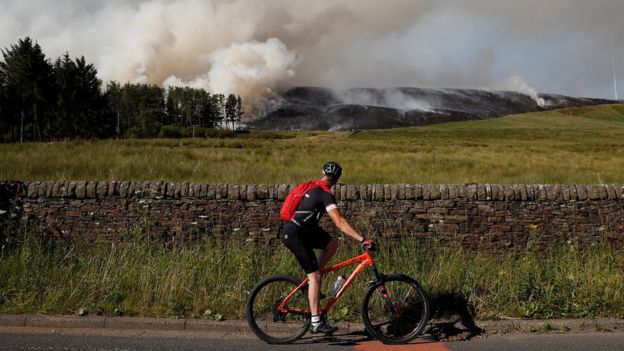 The current moorland fires are relatively unusual, says Alastair Lewis, professor at the National Centre for Atmospheric Science, but they could become more frequent because of climate change.
Guillermo Rein, professor of fire science at Imperial College London, said a population increase and the growth of development on the fringe of urban areas has also contributed.
He says the link between fires and climate change is even stronger in northern Europe. While small fires can be beneficial to moorlands, large and intense fires damage ecosystems, he added.
The Met Office says nearly all moorland fires in the UK are started by people – such as from campfires or discarded cigarettes and glass – whereas lightning strikes are frequently the cause in other parts of the world.
The UK's peaty moorlands are massive carbon reservoirs, which become tinder-boxes during prolonged dry spells, says Nick Ostle from Lancaster Environment Centre.
Source: Science Media Centre
---
Lancashire assistant chief fire officer Dave Russell said: "Moorland firefighting is very demanding – the firefighters are dealing with undulating terrain, different types of vegetation but also the logistics of deploying resources onto the moorland present us with a number of challenges.
"My concern primarily yesterday was that, on the top of Winter Hill, there are a number of radio telecommunication systems, which are essentially part of critical national infrastructure."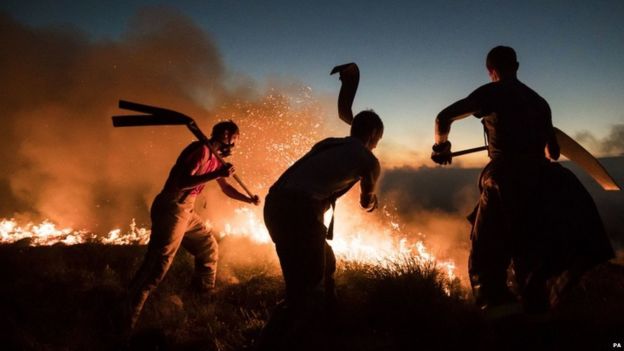 Trenches have been dug to prevent the fire spreading, including one around a house that was evacuated, while a helicopter has been dropping water to help douse the flames.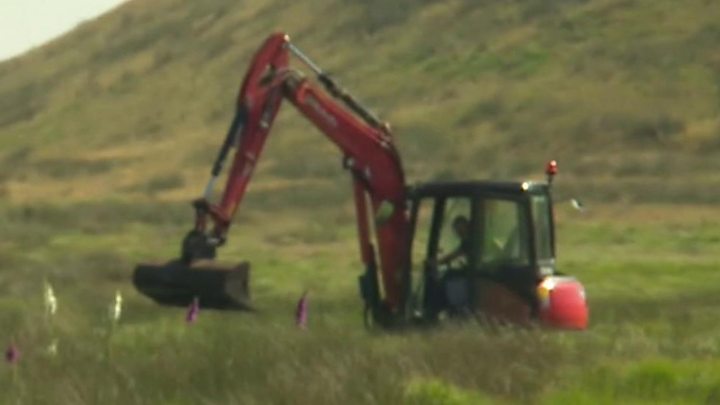 Met Office forecaster Helen Roberts said there was no significant rain forecast in the area this week.
She added that "winds are likely to pick up overnight", which could worsen the fire.
BBC
---