The night Mohammed Salah wowed Europe
Mohamed Salah was crowned England's best player at the weekend. On Tuesday, he established himself as one of Europe's finest. Next step: the world?
On a memorable European night at Anfield, the Egyptian scored two goals and made two more as Liverpool routed Roma 5-2 in the first leg of their Champions League semi-final.
He now has 43 goals in 47 appearances this season – a record that does not look out of place next to the very elite attacking players in the game: Lionel Messi, Cristiano Ronaldo and Neymar.
Just days after picking up the PFA Player of the Year award, there have already been calls for him to be the next winner of the Ballon d'Or – the most prestigious individual accolade in world football.
"You've got to give him the Ballon d'Or," Robbie Savage told BBC Radio 5 live following his second goal on Tuesday. "He is that good!"
"Never mind the PFA Player of the Year, just give him the Ballon d'Or."
Former Liverpool striker Robbie Fowler, who was nominated for the Ballon d'Or in 1996, described Salah as a "phenomenal player".
"The form and confidence he's in at the minute, to have the class and style to score those goals just speaks measures of the man," Fowler told 5 live.
"The man we all talked about before the game; the man for the big occasion."
And those big occasions keep on coming. If Liverpool can finish the job in Rome, a Champions League final in Kiev beckons.
Just weeks later, Salah will take his talents to the global stage, when he spearheads Egypt's attack at the World Cup in Russia.
The stats which keep getting better
Salah is the first African player in history to score at least nine goals in a single European Cup/Champions League season
Salah has scored in each of his last five Champions League starts for Liverpool – the only Reds player to score in five consecutively before the Roma tie was Steven Gerrard between October 2007 and February 2008
He has now surpassed England's 1966 World Cup-winning hero Roger Hunt (42) for most goals in a single season for Liverpool and only Ian Rush has scored more (47).
Salah has scored 10 goals in the Champions League this season – the most by a Liverpool player in a single season in European competition
The Egyptian is just the fifth player in Premier League history to be involved in more than 40 goals in a single season (31 goals, nine assists) – also Alan Shearer (47 in 1994-95) Andrew Cole (47 in 1993-94), Thierry Henry (44 in 2002-03) and Luis Suarez (43 in 2013-14).
Salah's haul of 43 goals is the most by any player in all competitions in Europe's top five leagues this season.
And he has scored in each of his last five Champions League starts for Liverpool, something only Steven Gerrard had previously done (between October 2007 and February 2008).
How Salah compares to Neymar, Messi and Ronaldo
Cristiano Ronaldo, Lionel Messi and Neymar are considered by most to be the best three footballers in the world but Salah's stats put him right up with them for goal contributions this season.
Arise, Sir Salah
Player
Games played
Goals
Assists
Shot conversion rate
Chances created
Shots on target
Salah
47
43
13
23.89
87
90
Ronaldo
39
42
8
16.22
53
111
Messi
50
40
18
14.81
112
127
Neymar
30
28
16
20.59
98
63
'He is world class' – Klopp
Liverpool manager Jurgen Klopp said Salah was "world class" but admitted he might not be the best in the world just yet.
"To be the best in the world maybe you have to do it for a longer period," said Klopp.
"His first goal is a genius strike, he's scored a couple like that. The second goal was also great play."
Salah joined the Reds for £34m in the summer from Roma but Klopp refused to admit the result could have been different if the winger was still with his old club.
"If Neymar didn't go to PSG, then Phil Coutinho is still here. It's just if, if, if," said Klopp.
Speaking on BT Sport, former Liverpool captain and current U18s manager Steven Gerrard said Salah is the "best player on the planet right now".
'Magical' – Pundits' reaction to sensational night
BBC commentator Alan Green on Radio 5 live: "I should be ashamed to take money for working tonight. Thank you."
Former Liverpool midfielder Steve McManaman on BT Sport: "It's just like a stroll in the park. I'm amazed by this performance tonight. It's absolutely unbelievable! You just can't believe it!"
BBC Chief Football Writer Phil McNulty: "Sadio Mane may have let Roma escape but there was no chance of Mo Salah making the same mistake – two bits of magical finishing from the Egyptian."
Match of the Day presenter Gary Lineker on Twitter: "Oh Mo. Oh My."
BBC World Service reporter John Bennett: If Mohamed Salah keeps this up he's playing himself into Ballon d'Or contention. And Nobel prize contention. And Pulitzer Prize contention. And Turner Prize contention.

Robbie Savage on Radio 5 live: "Salah has been the best player on the park. Two massive goals, a couple of assists. A standing ovation against his former side, what a player, what a man. Looks like he has put one foot in the final for Liverpool."
BBC Sport pundit Jermaine Jenas on Twitter: "Wow, all you can eat buffet at Anfield tonight – what an amazing performance by Liverpool!"
Radio 5 live's European Football Show host Mina Rzouki: Im sorry I never imagined Salah was capable of this when he was at Roma. He has truly developed into a sensation at Liverpool and under Klopp. As for Firmino, wow!
Former Liverpool and Roma defender John Arne Riise on Twitter: "The work-rate and intensity of the Liverpool team is insane! They just don't stop. The front three are destroying the Roma defence, who can't cope with the pace and movements."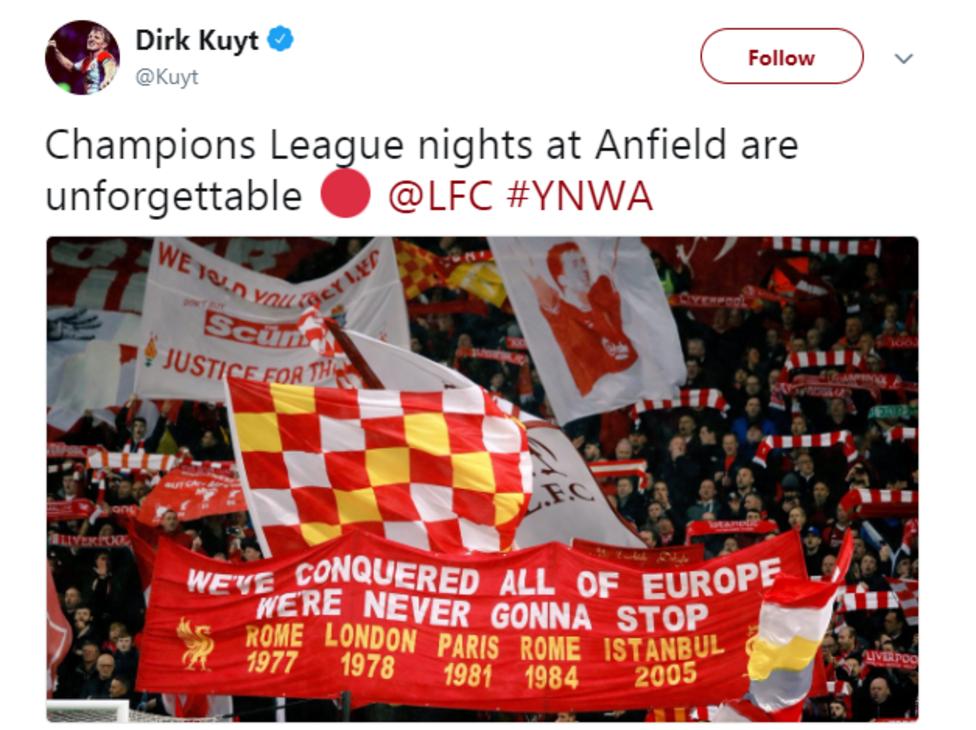 'The greatest match I've seen in 30 years at Anfield' – Reds fans react
Chris Williams: I've been coming to this old stadium for 30 years, both for work and pleasure and this is without doubt the greatest match I've ever seen.
Gumbo: Only one word describes watching Mo Salah play football: joy.
Tom: What a goal! Salah really is football's success story of the season.
Reece: Don't think I've ever loved a footballer as much as I love Mo Salah right now. The guy is a king. Not just an Egyptian one. But a King of Liverpool.
Si: That is why he is player of the year.
Pepe: Salah! I just hit my head on the ceiling and I've got 12ft ceilings! I'm only 5ft 9′. Salah, what a strike!
Nii: Please could someone check… is Mo Salah human. Wow, what a goal.
Curt: Mohammed Salah Football Club. That is all… Mohammed Salah Football Club. That is all.
Khanyile: Mo Salah is simply outstanding, even if you don't support Liverpool you just gotta love him, he is joy to watch, and his humility makes him even more likeable.
Shebab Khan: NEW: Prince William and Kate Middleton have named their third child Mo Salah.