India man freezes mother's body for 3 years to collect her pension
The suspect kept his mother's body in a large freezer conventionally used for storing ice cream (BBC)HINDUSTAN TIMES
Police in India say they have arrested a man who kept his mother's body in a freezer for three years.
Suspect Subhabrata Majumdar appeared to have mummified and preserved the body with chemicals, said police in Kolkata.
They are investigating whether the suspect kept the body so he could access his mother's pension after she died.
He also appeared to believe his mother would be reborn if her body was preserved, they said.
"We have recovered several journals on preserving dead bodies and books on rebirth," a police officer told the BBC's Amitabh Bhattasali.
Officials said they raided the house after they got an anonymous tip over phone on Wednesday.
"We found a woman's body lying inside a big freezer. It was preserved with some chemicals," they said, adding that they also found jars containing various body parts.
The suspect works as a leather technologist, which could have allowed him to access chemicals needed to "mummify" the body, police said.
According to reports, after Mr Majumdar's mother died in April 2015, the family chose not to cremate her, and instead kept her body in a large freezer conventionally used for storing ice cream.
"Both [Mr Majumdar's] parents were retired and received a monthly pension, which can't be withdrawn once a person is dead," officer Nilanjan Biswas said.
"But we found that money has been regularly taken out of the deceased woman's pension account since her death."
The suspect used a debit card to withdraw money from the account, he added.
His father has also been taken in for questioning.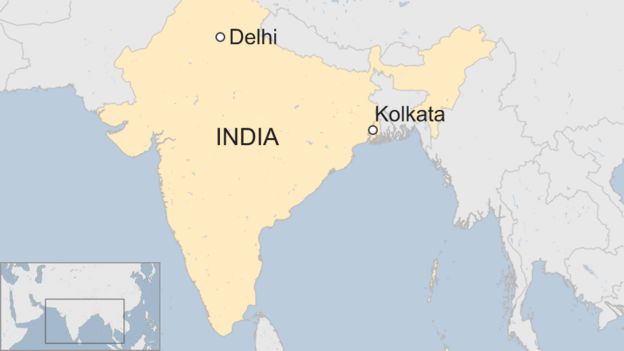 Reports said Bina was a government employee and had retired from Food Corporation of India. She received a pension of Rs 50,000 every month.
His 90-year-old father was also aware of the incident.
According to the police, during the search operation, they also found a forged living certificate of Bina.
A similar case was unearthed in 2015, when police officials found a man in Kolkata's Robinson Street, living with the rotting corpse of his sister who had died a year back.
Not just sister, the police had also found two other corpses of dogs inside the house who had died two years back.
During the investigation, it was found that the man was mentally unstable.
HINDUSTAN TIMES