Samura Kamara to challenge Sierra Leone election result in court
Dr Samura Kamara vowed to challenge julius Bio's victory in court
The loser of the Sierra Leone presidential election has said he will challenge the result of the run-off vote in court
Julius Maada Bio won just under 52% of the vote, beating ruling party candidate Samura Kamara by roughly four percentage points.
Mr Kamara said in a televised address that he was rejecting the National Election Commission's results.
"We dispute the results and we will take legal action to correct them," he said.
He added that the results "do not reflect the party's many concerns about massive ballot box stuffing, supernumerary votes, and other irregularities".
Mr Bio, a former military coup leader, was sworn in at a hotel less than two hours after he had been declared the winner.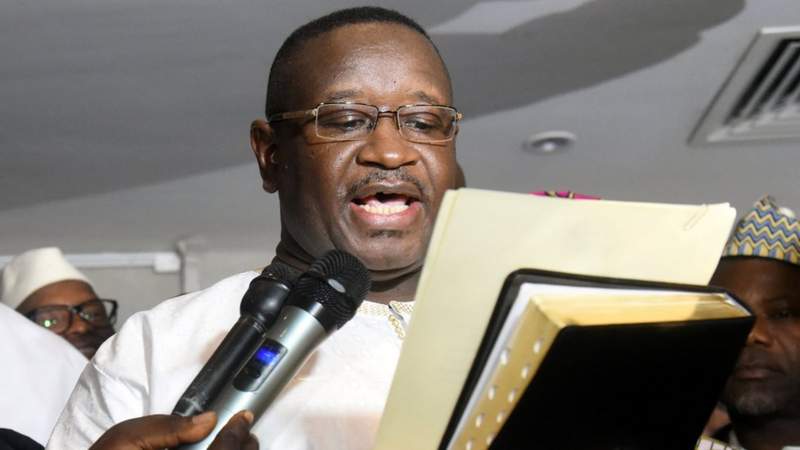 The BBC's Umaru Fofana says it's been a sometimes acrimonious campaign with the defeated candidate's party accusing the electoral commission, foreign observers, civil society and journalists of being a part of an international conspiracy to hand the election to Mr Bio.
Even with the country's deep-rooted ethnic politics, tribalism came to the fore more prominently than ever before.
With a narrow outcome, the new president has vowed to heal the divisions, and build back the country's broken educational system. He has a tough job ahead of him, made harder by the fact that his party has a minority in parliament.
Sierra Leone is one of the world's poorest countries, with a fragile economy and widespread corruption.
It suffered heavily during a devastating Ebola outbreak in 2014. The disease killed nearly 4,000 people yet there are still only 200 doctors serving the country of seven million people.
Mr Maada Bio has promised to heal the country's divisions and rebuild the country's