Equatorial Guinea goes to UN over conviction of president's son
 Teodorin Obiang in 2013. Photograph: AFP/Getty Images
London, Feb. 19, 2018 (AltAfrika)-Equatorial Guinea has gone to the United Nations' highest court to challenge a conviction in France against its vice-president for embezzling public money from the oil-rich but impoverished west African country – on the grounds that he has diplomatic immunity.
The extraordinary dispute over the status of Teodorin Obiang, whose fleet of Bugatti and Porsche cars was towed away by police during the French investigation, is being argued over at the international court of justice in The Hague this week.
The court, which usually deals with disputes over international borders, heard submissions from French lawyers on Monday morning that the claim on behalf of Obiang, 48, whose father is president of Equatorial Guinea, should be struck out.
"France has not accepted the jurisdiction of this court under any title whatsoever to entertain those facts on which Equatorial Guinea seeks the court to rule," the French representative, François Alabrune, told the ICJ.
The dispute erupted six years ago after France, under pressure from anti-corruption campaigners, began to move against Obiang, whose father, Teodoro Obiang Nguema Mbasogo, has run Equatorial Guinea since 1979.
The landmark case – spearheaded by two anti-corruption NGOs, Sherpa and Transparency International – marked a turning point in France, which for a long time turned a blind eye to the families of corrupt foreign dictators buying Parisian real estate and going on luxury spending sprees.
Last October, a court in Paris tried Teodorin Obiang in absentia. He was given a three-year suspended prison sentence and a suspended fine of €30m (£26.5m) for embezzlement, money laundering, corruption and abuse of trust.
The court also demanded confiscation of assets including Obiang's €107m mansion near the Champs-Élysées, which boasts a hammam steam bath, disco, gym, hairdressing studio, gold-plated taps and hundreds of art works.
Obiang was accused of spending more than 1,000 times his official annual salary on the six-storey mansion on Avenue Foch, one of Paris's most exclusive streets. The house was decorated with more than €40m worth of furniture, including a €1.6m Louis XV desk, a Rodin sculpture and a dozen Fabergé eggs.
Obiang owned two Bugatti Veyrons, the most expensive and fastest street car in the world, costing about €1m each and capable of reaching 250mph. They were part of a luxury fleet that filled the garages around the cobbled courtyard of his mansion.
During the investigation, French police needed trucks to tow away 11 luxury cars worth around €5m, including a Porsche Carrera, an Aston Martin and a Mercedes Maybach. More lorries were used to clear other assets, including bottles of wine worth thousands of euros each.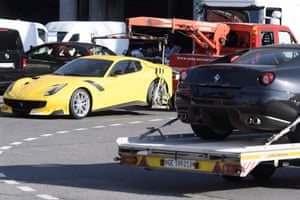 Obiang's lifestyle was in contrast with that of ordinary people in Equatorial Guinea, where more than the half the population lives on less than €1.65 a day, despite the country being one of Africa's top oil producers.
Obiang's lawyer said he would appeal against the decision in the French courts. In the meantime, Equatorial Guinea lodged a complaint with the ICJ.
Equatorial Guinea maintains that not only was the Vienna convention, which conferred diplomatic immunity on Obiang, breached, but French officials failed to uphold the diplomatic status of a building that the country maintains is its embassy in Paris.
In 2016, the UN judges in The Hague urged France to ensure the protection of the diplomatic mission in Paris, but sidestepped Equatorial Guinea's request for Obiang's trial to be halted.
Relations between the two countries have furthered deteriorated after Equatorial Guinea's foreign minister, Agapito Mba Mokuy, said an attempted coup in December had been hatched on French soil, although he said the French authorities had "nothing to do with" it.
Guardian