Kenya's Miguna Miguna charged with treason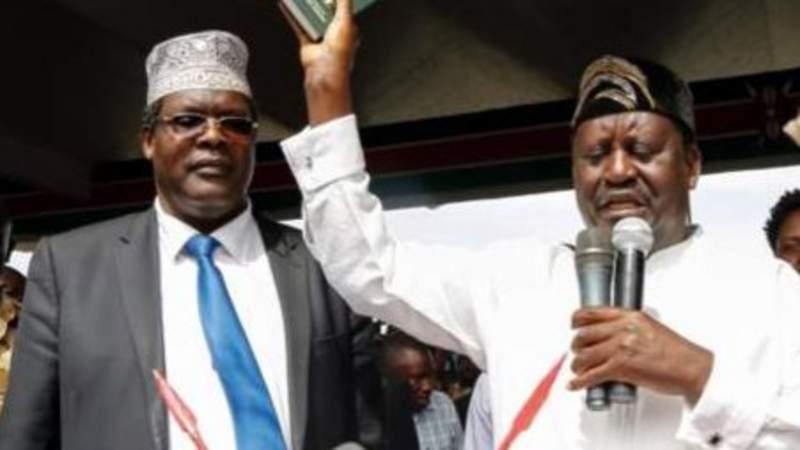 The ripples of Odinga's self declaration as the "Peoples" president in Kenya is beginning to manifest. The Kenyan opposition supporter Miguna Miguna has been charged with treason over his involvement in the "inauguration" of opposition leader Raila Odinga last month.
Mr Miguna was charged with "being present and consenting to the administration of an oath" which resulted in "treason", as well as "taking part in an unlawful assembly" and "engaging in organised criminal activity".
He was brought before the court in Kajiado County, some 50 miles (80km) south of Nairobi, where he had been expected to appear.
"Once again the state is willfully violating Mr. Miguna's rights by moving him without any notice to his lawyers or his family… to a court stationed outside Nairobi," his lawyer, Isaac Okero, said.
Mr Miguna remains in police custody with his exact whereabouts currently unknown, despite the fact a court in Nairobi had granted him bail of 50,000 Kenyan shillings ($500; £360) on Friday.
On 30 January, Mr Miguna played a prominent role in the "swearing-in" of Mr Odinga as "the people's president" in Uhuru Park, Nairobi.
A few days later, on 2 February, he was arrested in a dawn raid on his home, after he goaded police officers to come and arrest him.
Two other opposition supporters have also been detained.
Mr Odinga and his supporters dispute the results of Kenya's election last year, which saw President Uhuru Kenyatta win a second term in an election run-off last October.
Mr Kenyatta was officially re-elected with 98% of the vote on 26 October but just under 39% of voters turned out. He was inaugurated in November.