G5 countries meet in Niger for counter terrorism talks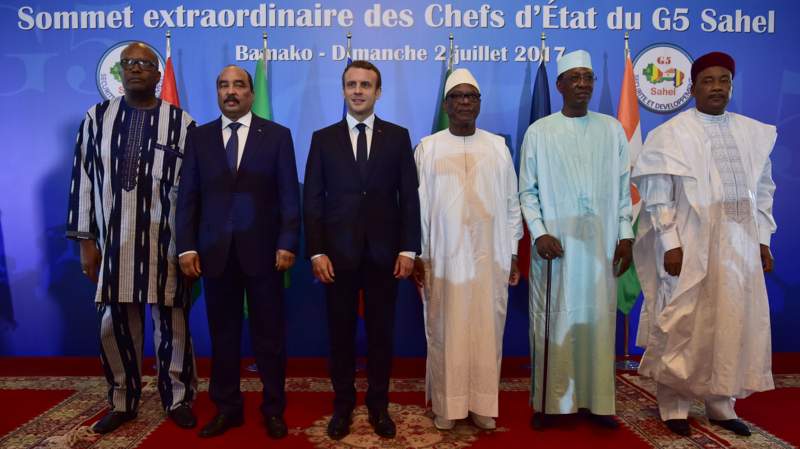 Heads of state from Burkina Faso, Chad, Mauritania, Mali and Niger are meeting at this year's G5 Sahel Summit in Niamey, Niger's capital.
While the operation of their joint regional counter terrorism force will be top of the agenda, they'll also discuss other issues including regional development and the rotational presidency of the grouping, which is currently held by Niger.
The $500m (£360m) budget target for the G5 Sahel Force has nearly been met, although it is still not clear how this will be spent.
The force carried out its first operation last October and its second last month.
It is expected to collaborate with French and UN forces in the region to try and bring stability in the wake of instability from jihadi militants in the Sahel
Some observers see the initiative of the G5 Sahel bloc – Mali, Mauritania, Burkina Faso, Niger and Chad – as forming the basis of an eventual exit strategy for around 4,000 French troops now deployed to the volatile region. But Macron said Paris had no plans to withdraw them.
Islamist militant groups, some with links to al Qaeda, seized control of Mali's desert north in 2012.
Though they were driven back a year later by a French-led military intervention, they continue to carry out attacks against on U.N. peacekeepers, Malian soldiers and civilian targets in violence that has spilled across Mali's borders.
"Every day we must combat terrorists, thugs, murderers, whose names and faces we must forget, but whom we must steadfastly and with determination eradicate together," Macron said at the launch in Mali's capital Bamako.