Two Kenyan TV stations shuttered by govt resume broadcast
A Kenyan electronics dealer stands by blank screens that would normally be playing the new. EPA/BBC
Nairobi, Feb. 5, 2018 (AltAfrika)-Two television channels that the government shuttered over coverage of a mock inauguration by President Uhuru Kenyatta's rival resumed broadcasts on Monday.
NTV and KTN News were ordered off the air after opposition leader Raila Odinga, who lost in flawed elections last year, swore himself in on Tuesday as a self-declared "people's president."
A third suspended channel, Citizen TV, has not resumed broadcasts.
Why are Kenya's biggest TV stations banned?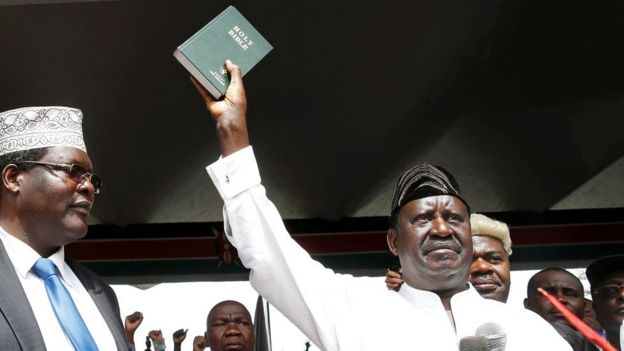 30 Jan: Kenyan authorities order Citizen TV, KTN and NTV to halt transmission for attempting to broadcast a rival "inauguration" staged by opposition leader Raila Odinga
Mr Odinga brands himself "the people's president" at the ceremony; he maintains that last year's presidential election was flawed, and many of his supporters boycotted the re-run which followed
The event is labelled "treasonous" by President Uhuru Kenyatta and a "serious breach of security" by the interior minister
1 Feb: High Court orders Kenya's government to switch TV stations back on until a case is heard and determined
But the three channels – Citizen TV, KTN and NTV –