CHAN 2018: Guinea dismiss coach and lose Sudan appeal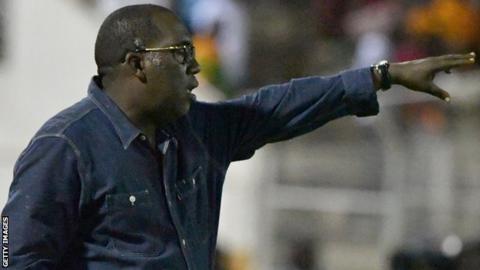 Guinea have sacked national coach Kanfory Bangoura after his side's early exit from the African Nations Championship (CHAN) in Morocco.
Also known as Lappe, Bangoura had been coach of Guinea's senior team as well as the CHAN squad of locally-based players since July 2016.
Guinea cannot reach the last eight from Group A after losses to Sudan and, on Wednesday, to hosts Morocco.
The Guineans also lost an appeal over the eligibility of a Sudan player.
Guinea's Football Federation (Feguifoot) had protested to the Confederation of African Football (Caf) that Elsmani Elsawi Saadeldin – who signed for Libyan club Al Ittihad Tripoli on 31 December – was not eligible to play against them.
Tournament regulations say Sudanese players must be registered with clubs in Sudan.
However, Caf has dismissed the appeal.
"After investigations, Caf has established that there was no administrative error by the SFA with respect to the player's registration," African football's ruling body said in a statement. 
"As at kick-off of Sudan-Guinea on 14 January, the registration of Elsamani on the Fifa Transfer Management System as a player of Al Ittihad Tripoli was not finalised and the International Transfer Certificate was yet to be issued."
"Meanwhile, for the next game of Sudan, against Mauritania on 17 January, the player was not involved and his name was indicated absent on the match sheet."
Feguifoot has announced that assistant coach Ibrahim Sory Toure will take charge for the final Group A game against Mauritania on 21 January.
It added that it has already started the process of recruiting a new national team coach.
Libya's Saadeldin is not the only player to have already found a team outside his own country to play for after the tournament.
Cameroon's Frantz Prangop is heading to the United States to play for MLS side Minnesota United, Nigerian defender Stephen Eze will join Bulgaria's Lokomotiv Plovdiv and Moroccan star Achraf Bencharki has earned a move to Saudi Arabian side Al Hilal.