Napoli defender Ghoulam named Algerian Player of Year
Faouzi Ghoulam is elected Algeria footballer of the year 2017 by captains, managers and president of the country's top-flight clubs.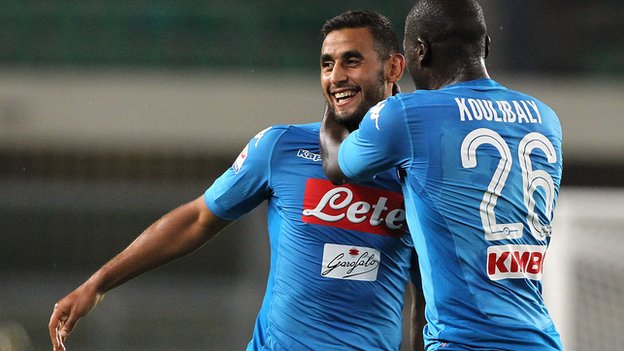 Faouzi Ghoulam has been elected Algeria Footballer of 2017 after a vote by captains, managers and president of the country's top-flight clubs.
During a live ceremony in Algiers, the Napoli defender received the trophy from the hands of former Italy and AC Milan great Paolo Maldini.
"I am very happy to win the Algerian Ballon d'Or," said Ghoulam.
"I am also proud to represent defenders because we have a thankless role compared to forwards," added the left-back.
"It is also an honour for me to receive the trophy from Paolo Maldini who is a reference in my position as a left-back. He is also a reference given the lengthy career he had in Milan."
Arguably Africa's finest left-back, Ghoulam made a series of exceptional performances with Napoli in both Serie A, where the club went 14 games unbeaten at the start of this season, and the Champions League in 2017.
Strong in defence, Ghoulam is also known for his attacking abilities as he scored twice and provided 10 assists at club level.
The only disappointment for his year was the early elimination of Algeria from the World Cup 2018 qualifiers.
Previously linked with Manchester City among other top Premier League clubs, Ghoulam beat off the challenge of Porto's Yacine Brahimi and Dinamo Zagreb top scorer Hilal Larbi Soudani – among others – to win the award.
Algeria's Ballon d'Or is organised by Le Buteur newspaper as well as local TV station El Heddaf.