Fifa lifts lid on fixed 2018 World Cup tie and banned referee
Fifa reveals that it banned Ghanaian referee Joseph Lamptey for life after he took decisions 'to make certain bets successful' during a 2018 World Cup qualifier between South Africa and Senegal.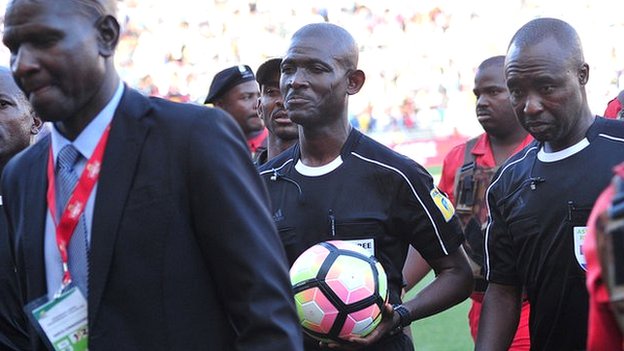 Fifa has explained why Ghanaian referee Joseph Lamptey was banned for life, saying he tried "to make certain bets successful" in a World Cup qualifier.
Lamptey aroused suspicion during South Africa's 2-1 win over Senegal in 2016, a qualifying match for Russia 2018.
"He [took] intentional decisions with the sole purpose of facilitating a minimum number of goals to make certain bets successful," Fifa said.
Fifa believes the bets related to the game featuring at least two goals.
Football's world governing body has never given extensive details of the case before, but said it had decided to do so now because of "its complex nature and various misconceptions".
The game in Polokwane, South Africa, featured a contentious penalty converted by the home side after 43 minutes, when a Senegalese defender was adjudged to have handled the ball, despite replays showing it had hit Kalidou Koulibaly's knee.
Fifa also concluded that Lamptey was at fault for South Africa's second goal just two minutes later, stating that the Ghanaian "clearly took two wrong decisions, which led to two goals being scored by South Africa".
The Zurich-based organisation added in a statement: "Suspicious betting activities reached their climax precisely when Lamptey took the incorrect refereeing decision between the 40th minute and the end of the first half."
Fifa said it was alerted to possible match manipulation by five different betting monitoring companies who "independently and simultaneously reported" that irregular betting activities had taken place.
"All five betting operators deemed the betting activities witnessed during the match to be highly irregular and indicative of match manipulation," Fifa affirmed.
No details were given of who may have placed the bets.
Neither South Africa nor Senegal were found to have been involved in the "match manipulation".
In September, Fifa took the unusual step of ordering the game – which was Senegal's first competitive defeat in 22 months at the time – to be replayed.
Two months later, the West Africans won the replay 2-0 and so qualified for the World Cup for the first time in 16 years.
Lamptey appealed against his ban to the Court of Arbitration for Sport, which ruled that Fifa's sanction was appropriate.