CHAN 2018: Morocco ease past Mauritania 4-0 in opening match
Hosts Morocco win their opening African Nations Championship match beating Mauritania 4-0 with Achraf Bencharki's skilful finish completing the rout.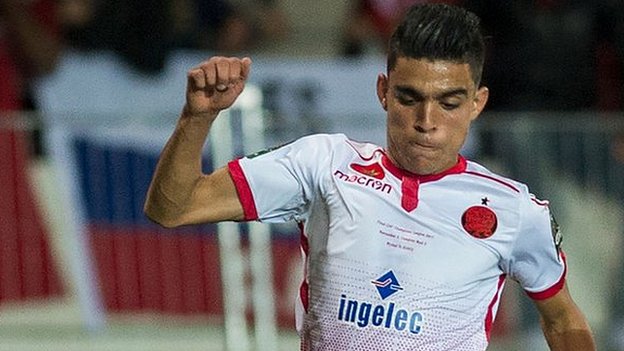 Hosts Morocco needed 65 minutes to break down a stubborn Mauritanian defence in the opening match of the African Nations Championship (CHAN) in Casablanca on Saturday, before winning 4-0.
Poor weather meant the stadium was not at capacity for the Group A clash and those who were there saw a disappointing first half from Morocco.
Despite the hosts' domination, they could not muster an effort on target in the first 45 minutes due to poor finishing and bad crossing.
Morocco made their pressure pay in the final 25 minutes with Ayoub El Kaabi scoring either side of a goal from Ismail El Haddad, before Achraf Bencharki flicked home a fourth in injury time.
The tournament, which is for African footballers based in their own domestic leagues, features 16 teams with the final on 4 February.
Before the match, Mauritania's' coach Corentin Martins said his side could not simply defend and that they would have to try and attack as well, which is what his team tried to do early on.
Mauritania were forced into a rethink in the first half as their defenders were caught out trying to push too far up field.
The local Atlas Lions were unable to convert their dominance and in fact it was Mauritania who had the only shot on target in the first half with a long range effort that was easily saved by Anas Zniti in the Moroccan goal.
In the second-half Mauritania's keeper Brahim Souleimane further frustrated Morocco with two excellent saves from close range.
He was finally beaten when he rushed out to try and save at the feet of El Kaabi who calmly slotted the ball under him to score.
Souleimane will feel he should have saved El Haddad's shot for the second goal on 72 minutes as the ball somehow dipped under his outstretched hand.
El Kaabi found himself in plenty of space eight minutes later and had time to pick a spot with a low shot across the keeper.
The win was completed in injury time by Bencharki, who as a member of the full Moroccan national squad surprisingly started on the bench, as he managed to flick the ball home from the tightest of angles.
The other Group A game is on Sunday when Guinea play Sudan.
Next up for Morocco is Guinea while Mauritania face Sudan, both matches are on Wednesday in Casablanca.