Caf to take over payment of referees in 'ethics' bid
The Confederation of African Football is to take over payment of all referees officiating games on behalf of African football's ruling body in a bid to stamp out corruption.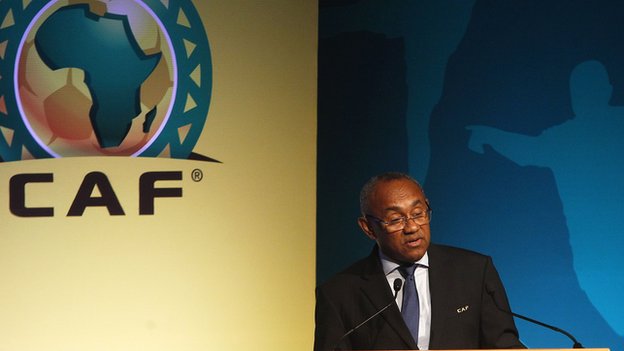 The Confederation of African Football (Caf) is to take over payment of all referees officiating games on behalf of African football's ruling body in a bid to stamp out corruption.
Previously, Caf rules stated that host associations should pay such costs.
"The decision reduces the financial burden on national associations," Caf said in a statement.
"(It) also eliminates an ethical challenge because it removes the suspicion perceived between national associations and the referees."
"This historic decision is a materialisation of (an election) campaign promise by the Caf president."
It is the second time in a month that Caf has taken action to minimise the threat of corruption in refereeing, after it removed the Best Referee in Africa award in December.
Caf president Ahmad said that award was scrapped over fears it could 'breed corruption.'
The ruling was approved at a Caf meeting on Wednesday in Morocco, where the African Nations Championships (Chan) begins on Saturday.
Among other measures, Caf also determined the period whereby Africa's leading club competitions – the Champions League and Confederation Cup – would move from a calendar year to a September-May schedule.
While this year's tournaments will run from February to December, the following campaign will begin immediately afterwards – also in December – before finishing in May 2019.
The 2019/2020 campaign will then run from September 2019 to May 2020, with this cycle to be repeated in the years that follow.
The resolution to change the timing of the competitions was taken at a historic African Football Symposium last July, where a number of wide-ranging decisions were taken.
In other news, a Caf inspection team will travel to Ethiopia by the end of March to assess preparations for the 2020 Chan while the candidatures of five officials vying for a seat on the Caf Executive Committee were approved.
Only one of the four positions features more than candidate, meaning that three candidates are set to be elected unopposed.
Candidates for Caf Executive Committee positions:
North Zone: Jamal El Jaafri (Libya)
West A Zone: Augustin Senghor (Senegal)
West B Zone: Sita Sangare (Burkina Faso)
Central Zone: Patricue Edouard Ngaissona (Central African Republic), Pierre Alain Mounguengui (Gabon)
Caf also announced that a technological device for better monitoring of players' performances, called 'fieldwiz', will not just be offered to Africa's five World Cup qualifiers but the remaining 49 members associations as well.