Guinea legend Papa Camara to be laid to rest today
Guinean football mourns the death of iconic former national team captain Papa Camara who died in Conakry at the age of 66 after a long illness.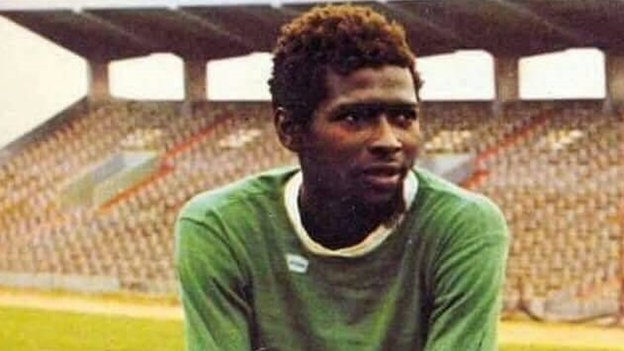 Guinean football is mourning the death of iconic former national team captain Papa Camara who has died in Conakry at the age of 66 after a long illness
Camara will be buried in Conakry on Sunday and the Guinean government will take responsibility for the funeral in honour of their hero
Condolence messages poured in for the player, with the president of Guinea's Football Association, Antonio Souaré, leading the tributes.
"The death is a great loss to Guinea football. Let's thank God because he wanted it this way. May his soul rest in peace," said Souaré of the player who was seen as a legend of the game in his nation.
Camara was regarded as one of Guinea's all time greats having played in five African Club Champions Cup finals – the former African Champions League competition – winning three continental titles with the Conakry-based club, Hafia FC.
Known for his dribbling skills, Camara partnered well with the 1972 African Player of the year Cherif Souleymane and played alongside the likes of Petit Sory, Maxine Camara, Cham Ousmane Tolo, Bangaly Sylla and Aliou Njolea to make Hafia FC the most successful club in Africa in the 70's.
He also helped Syli Nationale finish as runners-up to Morocco at the 1976 Africa Cup of Nations, the furthest Guinea have ever reached at a Nations Cup.
"Camara made huge sacrifices for Guinean football and I have wonderful memories of this outstanding footballer whose death is also a loss to Africa and world football," added Souaré.
"I knew and admired Papa Camara. I saw him playing in the rough terrains and beautiful beaches of Conakry during his playing time."
"He was the player who had the gift of controlling the ball with his head, chest and feet. He shone and seduced the world in the 1976 Afcon finals where Syli Nationale reached the final," Guinea FA boss Souaré recalled.
In 1976, Camara just missed out on winning the African Player Of The Year award, finishing second to Cameroon's Roger Milla.
He retired from football in the early 80's and served as an assistant coach for Syli Nationale.
His legendary status stretched beyond Guinea, as former Sierra Leone international and ex-Leone Stars coach Sam Obi Metzger recalls.
"He was great iconic player, one of the best players Guinea have ever produced, he will be missed." Metzger told BBC Sport.
"I played against him several times both at national team and club level and he always stood out.
"His death is not only a great loss to Guinea but African football as a whole," added Metzger
o.