Parsons Green: London Underground blast is terror incident
British police said on Friday that they were treating as a "terrorist incident" reports of a blast at the Parsons Green Underground station in the southwest of the capital.
Armed police rushed to reports of a fire on a train at a London station with local media reporting there had been an explosion on a packed rush-hour commuter train.
"Deputy Assistant Commissioner Neil Basu, the senior national coordinator for CT policing, has declared it a terrorist incident," the Metropolitan Police said in a statement on Friday.
Counter-terrorism officers are leading the investigation into the incident at Parsons Green station, where "a number" of people have been injured.
Police say it's "too early to confirm the cause of the fire, which will be subject to the investigation that is now underway by the Met's Counter Terrorism Command".
London Transport says services have been cut along the line amid reports on social media of the station's evacuation.
The Met's Counter Terrorism Command are investigating after the incident at #ParsonsGreen tube station is declared a terrorist incident

— Metropolitan Police (@metpoliceuk) September 15, 2017
Media accounts suggested that several people were injured but it was "unclear whether it had to do with the stampede or incident".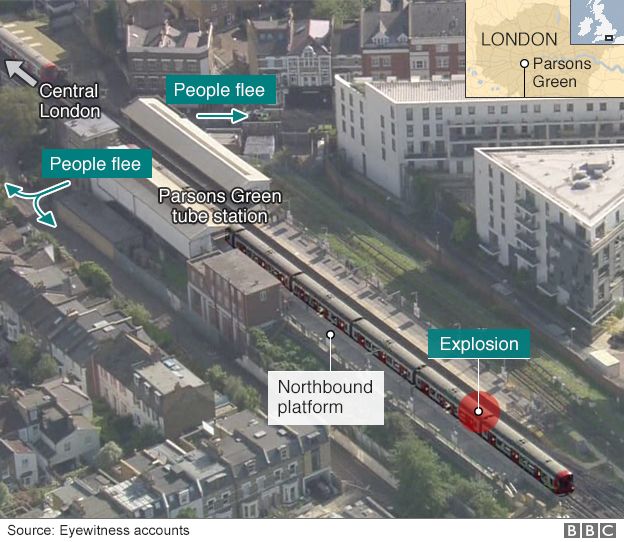 "It's rush hour in London and the stations are filled to the brim with people, so it seems like it was a chaotic scene," she said.
"It seems to be some kind of a crude device in a plastic bag that exploded, but emergency services are still evaluating."
Flames engulfed one carriage and raced along a train on a west London route to Parsons Green, forcing passengers to trample others as they rushed for an exit, a witness told Reuters news agency.
The man said people were trampled on when they fled the train after hearing a whoosh and seeing flames race towards them.
"I just heard a kind of whoosh. I looked up and saw the whole carriage engulfed in flames making its way towards me," he told Reuters news agency.
He said the train was packed with people.
Prime Minister Theresa May tweeted: "My thoughts are with those injured at Parsons Green and emergency services who are responding bravely to this terrorist incident."
The government's emergency committee, Cobra, is meeting at 13:00 BST.
Mayor of London Sadiq Khan has appealed for calm, saying the city "will never be intimidated or defeated by terrorism".
Witnesses have described seeing at least one passenger with facial injuries.
Others have spoken of "panic" as alarmed passengers left the train at Parsons Green station.
In this image made from video, fire raises at a southwest London subway station in London [AP]
Source: Al Jazeera and news agencies