Nigeria and South Africa both come out of recession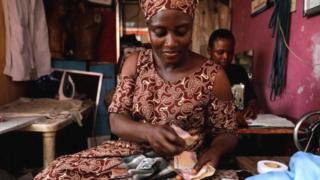 Nigeria and South Africa, two of Africa's richest countries, are no longer in recession as the economies of both grew in the last quarter.
Nigeria had experienced a long period in the doldrums with five consecutive quarters when the economy shrank.
But with annual GDP growth at less than 0.6%, Nigeria's emergence from recession is slow.
South Africa is still facing big economic challenges despite recording a more healthy 2.5% growth figure.
The economic boost in South Africa can be put down to a big rise in agricultural output of 33%.
But overall, its economy still continues to struggle with unemployment remaining stubbornly high at nearly 28%, the BBC's Africa Business Report editor Matthew Davies says.
In Nigeria, the poor performance of the vital oil sector continues to be a drag on the economy. Furthermore, the country's GDP needs to grow by 3% every year just to keep up with the rise in the country's population.
"It still falls far short of the growth rates the Nigerian economy should be achieving," economist Razia Khan told the Reuters news agency.