Lesotho army chief Khoantle Motsomotso shot dead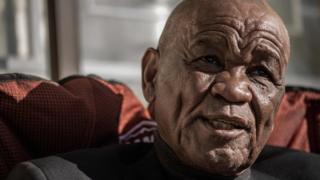 The head of Lesotho's army, Lt Gen Khoantle Motsomotso, and two other senior officers have been killed in a shootout at a barracks in the capital, Maseru.
Eyewitnesses said the officers burst into the army chief's office and shot him before being killed by guards.
Prime Minister Thomas Thabane has said the situation is now under control and has urged people to remain calm.
Lesotho has had periods of instability marked by coups or attempted coups.
The situation in Maseru has been described as tense with the military and police patrolling the streets.
At a press conference, Mr Thabane said that it was with sadness that he was informing the nation about the "unfortunate and untimely" death of Gen Motsomotso and the two others, journalist Pascalina Kabi told the BBC's Focus on Africa programme.
He also said that an investigation was under way to find out what really happened and why.
There have been three elections in the past three years, the most recent being in June, with none producing a clear majority for the winning party.
Prime Minister Thabane, leader of the All Basotho Convention, now heads a coalition government.
In 2014 Mr Thabane fled to South Africa, fearing that he would be targeted in an assassination attempt.